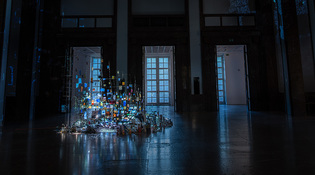 Photo: Mike Barnett. Courtesy the artist, Tanya Bonakdar gallery, Victoria Miro gallery. © Sarah Sze.
Artist Sarah Sze '91 created her piece Centrifuge for installation in the Middle Hall of Munich's Haus der Kunst museum, where it will be on view through August 12, 2018. View full image
At first glance, Sarah Sze's Centrifuge—built of torn paper, reflected water, and blinking light—appears to be a beautiful, random, haphazard assault on the senses.
But there is nothing random or haphazard about Sze's latest installation or, indeed, about any of her work. Speaking with Sze '91 in her studio on Manhattan's Far West Side, one quickly realizes how much deep, deliberate thought goes into everything she makes. Sze is drawing from multiple sources: artists such as Robert Rauschenberg and Anni Albers; scientific principles of scale and time; philosophical questions like what it means to communicate. And she is positioning each element of her kaleidoscopic creation just so.
"A lot of things that seem very haphazard have to be very precise," she says.
Because she started out studying architecture at Yale, and her father is an architect, Sze is intensely aware of how her pieces feel and fit in a physical space. She designed as much of Centrifuge as she could in her New York studio, but she knew she couldn't complete the project until she saw it in place—in the Middle Hall of the Haus der Kunst museum, in Munich, where it was installed this past September. (It will remain there through August 12, 2018.) The impressive scale of the building could not help but influence her work, Sze says. "The space is massive," and she wanted to make a piece of art "that didn't fight or try to fill that." Instead, the installation leads the viewer toward itself with shimmering light on the floor, like a beam of sun reflected in the water.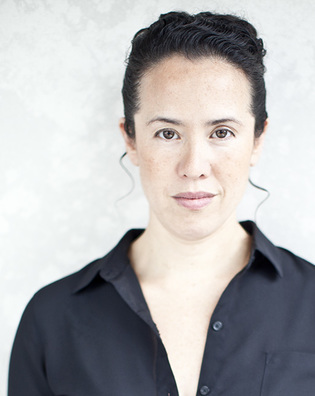 Deborah Feingold
Despite the complexity of her work, Sze (pronounced zee) keeps her own appearance quite simple. For our meeting at her studio, she's dressed in a black button-down shirt, black cargo pants, and white Stan Smith sneakers, with no jewelry except for a wedding ring. Her hair is pulled back, her eyeglasses perched on her head. She barely stops to snack on the hummus, crackers, and carrots her assistant has left out for her; she is too busy to remember she's hungry.
Indeed, the studio itself attests to a creative force firing on all cylinders. Every surface is covered—walls, floors, tables—with work, materials, tools. Her travel schedule is also crammed. Before Munich this fall, Sze was in Venice in the summer, collaborating with glassmakers to create Cotissi, a site-specific installation composed of glass shards.
Sze has achieved both critical and commercial success. In 1997, the New York Times art critic Holland Cotter described one of her "labor-intensive, room-filling installations from myriad tiny scraps of found materials" as "astonishing," likening it to "a kind of gossamer Erector Set." She has received a MacArthur "genius grant," had a sculpture featured on the High Line park in Manhattan, and represented the United States in 2013 at the Venice Biennale. Her work is in the collections of the Museum of Modern Art, the Whitney Museum of American Art, and the Guggenheim. Her commissioned pieces sell for more than $1 million.
But she says success in and of itself is not—and cannot be—the motivation. Artists who seek fame or financial remuneration are unlikely to last. "I never thought of art as being a stable profession, and I think it's good to go into it that way," she says. "It's not like going to nursing school, where there are jobs available at a certain salary. Approval is fickle and it should be. If there are good conversations about the work, there are going to be people who hate the work. If you believe in the good reviews, you have to believe in the bad reviews. If you do care about that, you will stop making art."
"I think it's a huge privilege to be an artist," she adds, "and to have an audience."
A Chinese American who grew up in Boston, Sze credits her multi-layered, multi-disciplinary approach in part to her Yale undergraduate education, which she says gave her a broad knowledge base and wide-ranging curiosity about the world. She also absorbed Yale's extensive arts culture. Sze vividly remembers watching slides in the art history class taught by Vincent Scully '40, '49PhD, studying in the Yale Center for British Art, learning from the art critic Craig Owens, and observing Richard Serra '64MFA as he installed his sculpture in the old Fine Arts building. "When I was studying there, the students of [Josef] Albers were still teaching," she adds. "That legacy is really strong." She enjoyed being among School of Art students, who would "sit down at a lunch table and talk about Agnes Martin or Robert Ryman or Helen Frankenthaler, or what kind of paint you were using." After graduating, Sze directed Summerbridge New Haven (now called Breakthrough), an educational nonprofit for underserved students. In 1997, she received her master's at New York's School of Visual Arts.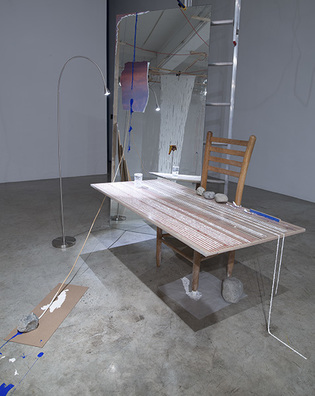 Courtesy Tanya Bonakdar gallery and Victoria Miro gallery. © Sarah Sze.
Sze's Mirror with Landscape Leaning (Fragment Series), 2015, was recently acquired by the Yale University Art Gallery. View full image
Sze has been nominated to the governing board of the Yale University Art Gallery, which also recently acquired her Mirror with Landscape Leaning (Fragment Series). "We want to acquire the work of really good artists and keep adding them to the collection," says gallery director Jock Reynolds. He calls Sze's approach to assemblage "creative" and "wild," with its range of materials from thread and Q-tips to large everyday objects like furniture: "The sheer delicacy of her work [is] juxtaposed often with very strong elements of sculpture." Reynolds notes that he's been especially mindful of adding female artists' work as Yale approaches two major coeducation anniversaries in 2019: the 150th for the School of Art—the first Yale school to admit women—and the 50th for Yale College, the last one to end its men-only rule.
Sze's studio has grown over time; her staff currently numbers seven. But she is deliberately applying limits. "I don't want to get too big," she says, "because for me the hand is important in the work." Also important to her is remaining in touch with students. Despite increasing demands on her time, she continues to teach a graduate critique every spring at Columbia University, where she is a tenured professor.
In the midst of all her professional activity, Sze is parenting two school-age daughters with her husband, Siddhartha Mukherjee, a physician and scientist who won a Pulitzer Prize for his 2010 book, The Emperor of All Maladies: A Biography of Cancer. The two have become something of a celebrity couple. (Vogue recently dubbed them "the most brilliant couple in town.")
She also has ambitions to help correct certain misperceptions about the art market—namely, that artists are overpaid and that they benefit directly when their work does well at auction. (Big numbers at auction make headlines, but artists generally don't share in those proceeds, though the value of the artist's work sold through dealers might increase as a result.) And Sze is also concerned about the persistent inequity experienced by female artists, whose work continues to be undervalued. "It's a perception problem, but it's subjective," Sze says. "It's bad, but I don't know how to correct it."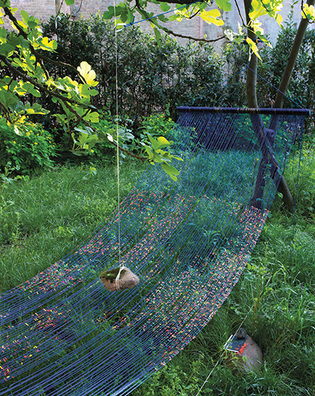 When Sze's The Last Garden (Landscape of Events Suspended Indefinitely) was in the 2015 Venice Biennale, visitors had to ferret out the piece in a wooded area. View full image
Because her work often spreads out and requires people to move around it, Sze is always conscious of where that work is ultimately situated. For her recent Hammock (For Rauschenberg), commissioned for the inaugural ARoS Triennial: The Garden, End of Times, Beginning of Times, in Denmark, Sze chose a wooded ravine far from the rest of the Triennial works. "You discover it in the center of the woods," she says. "It is not totally accessible."
Neither was her delicate hammock for the 2015 Venice Biennale, The Last Garden (Landscape of Events Suspended Indefinitely). Would-be viewers had to ferret out the piece in a wooded area.
Sze tries to remove the presentational aspect of art from her work, preferring for people to feel as if they engage with it rather than passively view it like an audience. In installing her 2015 show at the Tanya Bonakdar Gallery—Sze's first solo gallery show in the United States in five years—she wanted the placement of the art to foster a sense of discovery and informality, as if visitors had caught the artist in the midst of the creative process. Thus, for that show, she incorporated two ladders that had been brought in for hanging work lights.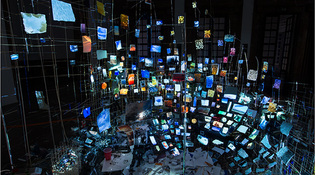 Courtesy the artist, Tanya Bonakdar gallery, Victoria Miro gallery. © Sarah Sze.
Centrifuge requires the viewer to puzzle over how Sze created it. In the mix: mirrors, wood, bamboo, stainless steel, archival pigment prints, video projectors, ceramics, acrylic paint, and salt. View full image
Similarly, her Centrifuge piece keeps visible the mechanisms that animate the installation. "The projector is here, the plug is there," Sze says. "It makes work bleed into life. You confuse the two."
"There's nothing theatrical in that you don't have this anticipation of, 'I'm going to see art,'" she adds. "It's something you discover as being of interest, the same way as when you pick up your phone and someone sends you an incredible image of a plane landing on the water."
Like many of her pieces, Centrifuge—a constellation of objects and images—also requires the viewer to puzzle over how she made it. Her process can be quite involved. In the case of Centrifuge, the images on squares of torn paper started as films: smoke dissipating, fire burning, light reflecting. One film was taken out the window of an Amtrak train, another of a sun rising, another of a bird lifting off. "The world around you is so profound," Sze says. "Mundane things, when blown up on a large screen, become spectacular."
She then took stills of the films and subsequently projected the films onto those photographs. "The image becomes the surface," she says. "It's a projection, it's a photograph, it's a screen." Through this work, Sze is exploring larger ideas of what it means to make images in an image-saturated, rapid-fire Instagram age. She's plumbing "the intersection between image, moving image, and sculptural space," as well as the "way we collect objects, the way we collect images, the way they accumulate." She mentions influences as diverse as the director Andrei Tarkovsky's 1966 Soviet biographical historical film Andrei Rublev and Adele's music.
Bonakdar considers Sze's introduction of the moving image into her pieces "a significant step forward" from her previous work. "It's amazing to see its relationship to the contemporary movement in the sense of the digital world that we're living in. You see people mesmerized by it."
Sze's installations can almost disorient, challenging a viewer's assumptions about perspective and point of view. For Centrifuge, the wooden armature is concave, as if she'd shaped it around a huge globe and then removed the globe. "The whole piece frames an absence of space," she says. "It is built around an absent object. The screens aren't flat—they are cupping, like two hands holding. It has a kind of coliseum quality to it, turning inside out who's the viewer, who's the maker, where's the audience."