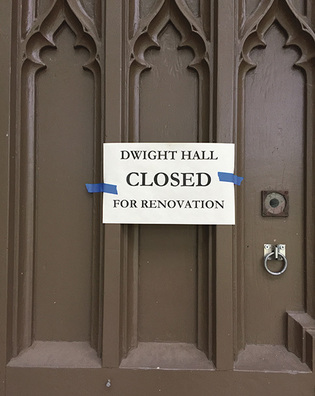 Mark Zurolo '01MFA
Yale's endowment grew to $27.2 billion in the fiscal year ending June 30, with a return of 11.3 percent for the year. Consulting firm Cambridge Associates said the average return for universities and foundations reporting so far this year is 12.7 percent. Spending from the endowment represents about 34 percent of Yale's budget.
After the Trump administration announced in September that it was rescinding the immigration policy known as Deferred Action for Childhood Arrivals, President Peter Salovey '86PhD wrote in a statement to the Yale community that the university will continue to aid students affected by the change through legal support, increased financial help where necessary, and other measures.
Dwight hall, the university's umbrella organization for volunteer and social justice work, will operate from 143 Elm Street next to the Green this year while its Old Campus home undergoes a $4 million renovation. Dwight Hall was built in 1846 as the college library; it is Yale's second-oldest extant building.
A happy result of the affiliation of Andover Newton Theological School with Yale Divinity School is the reuniting of the papers of Jonathan Edwards, Class of 1720. Although Yale has long held the bulk of the Edwards papers, an important collection was recently brought from Andover Newton, putting 95 to 98 percent of Edwards's known writings in one place—for the first time in 150 years.