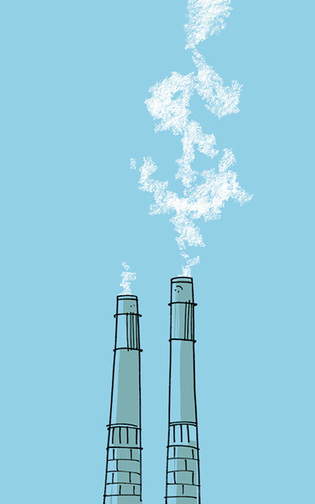 Celia Poirier
How do you persuade every department in a large university to make carbon cuts a priority? Yale's answer: carrots and sticks, in the form of money. The university has put a system in place to reward administrative units that do well at reducing their carbon dioxide emissions and to penalize those that do poorly.
Many large corporations have implemented this kind of program, known as internal carbon pricing. Yale will be the first university to try it. The aim is to factor in the social costs of carbon—that is, the cost of damages created by burning fossil fuels—when making decisions throughout an institution.
Yale's program, which went into effect on July 1, had its genesis in 2014, when President Peter Salovey '86PhD created a task force to study the idea of a carbon charge program that would help change behaviors across the university. The task force was chaired by William Nordhaus '63, Sterling Professor of Economics, who pioneered the idea of the social cost of carbon. Its recommendations were tested in a six-month pilot program, beginning in December of 2015, which used four different models in 20 campus buildings that house different types of functions. (See "Yale Tries an Internal Charge for Carbon," November/December 2015.)
The pilot succeeded, says Casey Pickett '11MBA, '11MEM, director of Yale's Carbon Charge Initiative, and it demonstrated that an internal carbon charge is doable both politically and administratively. Today, the program covers 259 of Yale's buildings, representing nearly 70 percent of the university's total energy consumption for buildings. (Buildings of less than 5,000 square feet, or with complex ownership structures, were not included. They may be added later.)
The program works as follows. Carbon output will be measured by use of electricity, steam, natural gas, and chilled water. Yale has calculated the baseline carbon output for each of the buildings and for the university as a whole. Each building's success will be measured against Yale's success: a building that cuts carbon output by a higher percentage than Yale does will be rewarded, and a building that cuts carbon output by less than Yale will be charged. The winners will receive funds to their budget lines from the "carbon charge pool"; those who performed poorly will pay into it. Each building will receive a monthly report, with charges and returns assessed in November and June.
"The financial impact to any one cost center is relatively small," Pickett says, "but the incentive to reduce emissions will be considerable." He points out also that, as a nonprofit, the university is wide open to sharing its data, which is not the norm among the hundreds of for-profit businesses that have instituted carbon charges.
"As the first university to pilot-test a carbon charge program and the first university member of the Carbon Pricing Leadership Coalition, Yale is serving as a model for other communities and organizations," said Salovey in a statement. "Yale's carbon charge program is an important example of our commitment to curbing climate change and reducing greenhouse gas emissions."
"We know that climate change resulting from the human-caused release of carbon dioxide increases the severity of a host of problems that affect humans directly," says Pickett, listing issues ranging from hurricanes, floods, and wildfires to increases in insect-borne disease. Yale's sustainability plan, which was updated last year, includes the goal of achieving carbon neutrality—that is, zero net carbon emissions—by 2050.