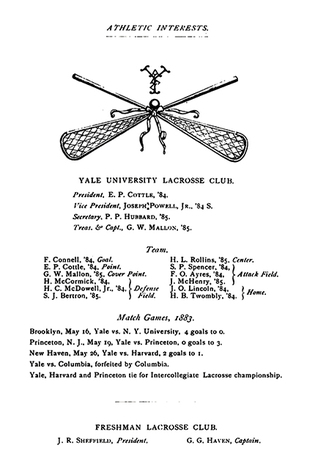 Yale Banner, 1883-84
The lacrosse team's inaugural season—which included a three-way tie for the intercollegiate championship—was recorded in the 1883–84 Yale Banner. View full image
This spring, Yale men's lacrosse won its first national championship under the auspices of the NCAA. But this wasn't its first national championship in the sport. For that, one has to go back to 1883.
First, some background. The roots of the Native American sport go back centuries. European settlers first observed the game in the seventeenth century; French missionaries named it "le jeu de la crosse'' because they thought the stick resembled a bishop's crosier. By the mid-1800s, Canadians of European origin began playing the game.
The first US club was formed in Troy, New York, after a game between eight Native Americans and eight European Americans. (The Native Americans won.) Clubs soon proliferated in America, and the media took notice. "Lacrosse may be called a madman's game, so wild it is," declared the New-York Tribune in 1868, reporting on the first game in New York City. Lacrosse fever spread throughout the British empire; in 1876 New Zealand and an Indian team played before Queen Victoria at Windsor Castle.
Lacrosse came to Yale in the fall of 1880, thanks to Edmund Cottle '84, who had grown up in lacrosse country in upstate New York. Upon arriving at Yale, he immediately organized a freshman lacrosse club to play against other class clubs. In the fall of 1882, he also organized a team to play against other colleges. In the same year, Harvard, Princeton, and Columbia formed the Intercollegiate Lacrosse Association.
Yale played its first intercollegiate lacrosse matches in 1883. Its home games took place in Hamilton Park, on Whalley Avenue near the current Edgewood Park. The park was a popular spot, where the Yale football team played and Yale track and bicycle teams competed on the horse racing track. Large crowds were transported on the horsecar line from the Yale Fence to watch these competitions.
Yale had a successful—if sparse—debut season in lacrosse that year. Its first game was against NYU, on May 16. Yale won in a shutout, 4–0. Over the next ten days, Yale lost to Princeton, defeated Harvard, and beat Columbia by forfeit. And that was the end of the season. Yale, Princeton, and Harvard shared a three-way tie for the intercollegiate championship.
The next year, the colleges collaborated to send a US team to England. It had six to eight players from Princeton and two players each from Harvard and Yale—one of whom was Cottle. (Records note that the average age of the team was 23 years, four months; the average height was five feet, 9-1/2 inches; and the average weight was 153 pounds.) The matches started in May and took place at Liverpool, Manchester, Sheffield, London, and Cambridge, followed by All England in London and All Ireland in Belfast. In all, the team played 13 games in England and Ireland, losing only one—and that by one goal.
After Cottle left Yale, the championships were dominated by Harvard and Princeton. For some years around the turn of the century, lacrosse was actually dropped at Yale for lack of interest. It is not mentioned in Walter Camp's 1899 history of Yale, even among the "minor sports." A March 1915 Yale Daily News article urged its return: "Let us not be disappointed in our expectation that the coming spring will see a Yale lacrosse team in the field, out for another championship."
A team did return after World War I and later thrived in the 1930s under the coaching of Reggie Root. Like many sports, it was inactive during World War II, but it came back, with 17 players signing up in 1949.
As for Edmund Cottle, his devotion to lacrosse came at a cost—in the short term, anyway. That trip to England with the US team required that he leave before the end of his senior year, and Yale did not grant him his degree. His class petitioned on his behalf, however, and he was reinstated by Yale's board of trustees. He received his 1884 BA in 1885.