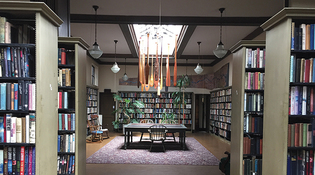 Mark Zurolo '01MFA
The Institute Library occupies the upper two floors of a commerical building on Chapel Street. The canoe paddles hanging from the skylight, hand carved by artist Scott Schuldt, are part of the library's current exhibition about travel. View full image
On one of the busiest streets in downtown New Haven, nestled between a tattoo parlor and a vintage clothing emporium, the narrow entrance to the Institute Library is easy for a passerby to miss.
So keep your eyes open, because that would be a shame.
A New Haven institution since 1826, over the past seven years the Institute Library has reemerged as a force in the city's cultural and intellectual life, after some quiet years. Its monthly Listen Here program features short fiction read by actors from the New Haven Theater Company, followed by discussion (and cookies). Its Poetry Institute regularly celebrates an eclectic mix of poetic voices. Its current gallery exhibit—Wish You Were Here—features the work of 12 contemporary artists in conjunction with travel books, atlases, and other materials from the library's history collection.
One of only about 16 membership libraries remaining in the United States, the Institute Library predates the New Haven Free Public Library by six decades. Founded as the Apprentices' Literary Association, by eight young working men for the purpose of "mutual assistance in the attainment of useful knowledge," the organization has changed names and locations several times. It moved to its current location, the upper two floors of a commercial building on Chapel Street near the Green, in 1878.
In its earliest days, the library held classes in arithmetic, bookkeeping, geography, geometry, grammar, and natural philosophy. In ensuing decades, says former executive director William C. Baker, the library achieved a reputation as "the democratic heart of intellectual life in New Haven." Issues of the day were passionately debated. Lectures by the likes of Frederick Douglass, Anna Dickinson, and Ralph Waldo Emerson were among its offerings.
But by the early 1900s, at least partially in response to the founding of the New Haven Free Public Library in 1887, the presence of what was then known as the Young Men's Institute had diminished significantly. Over time, its hours of operation shrank, and the endowment dwindled.
Today, the organization seems to have found a new niche. It currently has 400 dues-paying members (a starting annual membership is $25); a sunlit, well-used reading room and quiet work spaces; a circulating library of 30,000 volumes; a cultural archive with numerous items of interest to researchers, scholars, and serious readers; an art gallery that showcases dozens of artists each year; and an enticing schedule of programs.
Revitalization efforts began in earnest less than a decade ago, spearheaded by board members and others who wanted to honor the library's original purpose while reestablishing it firmly in the life of twenty-first-century New Haven. At the same time, staff and volunteers are getting the library's physical house in order, including entering its holdings into an online catalogue.
As that task is under way, lovers of its quirky card catalogue—which employs a classification system unique to the library, invented in the 1890s by its then-librarian William Borden—need not worry. Executive director Valerie Garlick promises that the beautifully scripted old cards will remain an integral part of the library. "The point," she says, "is not to replace our past, but to keep building on it."