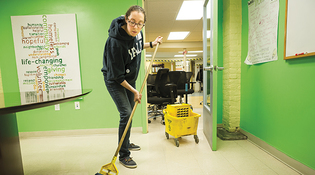 Joshi Radin
Alexandra Newman '05 mopped the floors at Lincoln Park Community Services in Chicago. She was one of four Yale volunteers helping out the nonprofit agency for homeless men and women. View full image
Emerge from the waters of Lake Michigan and walk west on Fullerton Parkway, past rows of well-kept brownstones, a Presbyterian church, and a string of historic mansions, one of them recently listed for $2.9 million. There is also Lincoln Park Community Services, but you'd miss it if you weren't looking: down a narrow well of unmarked stairs, below a red awning, through a windowless door that unlocks with a buzz and opens into the low-ceilinged basement. The nonprofit, cofounded by Robert Burson '80JD in 1985, currently provides beds, classes, and counseling for 35 homeless men and women who stay as long as they need to—sometimes a few weeks, sometimes many months. Each case is different.
"The only common denominator among the homeless is that they're homeless," Burson said.
He welcomed three Yale volunteers to the day, squinting with recognition at one of them, uncertainly offering a name: "Lexie?" She nodded. Alexandra Newman '05 had attended the year before—the inaugural year. She's been part of the Day of Service for years. This year, she not only volunteered at Lincoln Park Community Services, but also led volunteers at the Greater Chicago Food Depository.
Come 9:30, the group formed a circle and received general instructions to clean whatever surface appeared dirty. Formula 409, Windex, paper towels, latex gloves, and sponges sat on a table. Burson immediately grabbed supplies and began wiping down the front door, then the conference room door, then the plastic armrests on the chairs around the conference room table. He detailed the founding of the organization, a process that encountered its share of resistance. Few neighborhoods welcome organizations for the homeless with nothing but smiles.
One of Lincoln Park's first clients was a man who had held a stable and well-paying job for years until some catastrophe knocked him off the rails of life. From that point, he sat silently on a bench at a nearby bus stop in all seasons; he sometimes attended Catholic Mass at St. Clement around the corner. One night in July of 1986, the bench where he slept was set on fire. He survived with burns. No culprits were caught.
Newman entered the conference room with a mop and began running over the floor in wide circles. Another volunteer packaged toiletry sets in Ziploc bags. The guests, as they are known—the men and women in need of help—drifted in and out of the common room, checking their phones or sitting on couches before the muted television. It was easy to mistake them for volunteers; little distinguished us from them.
And maybe that was the point. Four people in two and a half hours wouldn't do much to eradicate homelessness; it wasn't even obvious that the wiping of doorknobs and mopping of tile was needed. The place had looked well scrubbed when we got there. But for a short while, these graduates of Yale stood beside the sinkhole of need, so often invisible despite its great width and depth. They saw what other people did not have.