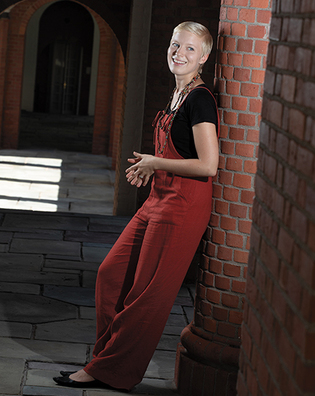 Mark Ostow
Sophia Gamber '21MDiv
Moorestown, New Jersey
Divinity School
Please tell me a bit about your religious background.
I come from a spiritually agnostic Quaker household. And so to boldly claim I loved Jesus was in many ways a countercultural move.
What does it mean to say that you love Jesus?
It means that I must embody love in the world. It means that I have to use my privilege as a middle-class white woman to fight against systems of oppression, and to build communities of care where everyone can flourish.
And what do you want to learn here?
I'm hoping to discover here what my path forward is, or at least a little bit about it. I'm thinking about ordination in the United Church of Christ, but I'm really not sure right now. I also am thinking about further academic study with regard to the relationship between spirituality, religion, ecology, and trauma.
Would you elaborate?
A lot of the cycles of violence and oppression that occur upon marginalized people around the world are related to the cycle of ecological devastation that we also see happening. I'm interested in how we can explore our relationship to the Earth to deepen our relationships to one another, and to grow together as a more justice- and peace-oriented global community.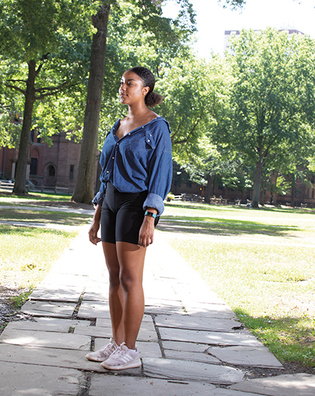 Mark Ostow
Simone Williams '22
Flossmoor, Illinois
Branford College
Has anything surprised you about New Haven or Yale?
I knew I was coming to a school where everyone was smart, but every person that I've met has just some incredible story of how they got here.
What do you plan to study?
Right now, my intended major is mechanical engineering, but I'm also interested in African American studies. I might double-major.
How did you discover mechanical engineering?
I used to say that I was good at math, but I didn't like it. But then I realized—junior year, when I was taking the AP Calculus exam—that I was excited for it, and this is what I want to do. I like the application of math into other areas. That's why I like engineering.
What do you think of the food here?
I'm vegan, and I was a little bit concerned for the food options. But there is a vegan option at every meal, so I actually love the dining hall food.
Can you think of a particular dish that you enjoyed?
Whenever they have meatless options, like meatless chicken, that's usually really good.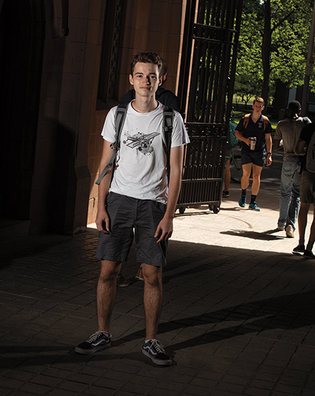 Mark Ostow
Dani Zanuttini-Frank '22
Hamden, Connecticut
Davenport College
What courses are you taking?
Music in the European Court, Church, and Theater, 1600–1800. I'm also taking a French literature class, linear algebra [later changed for civic art], and a first-year seminar called Law and the Limits of Freedom. I'm excited. It's a really good class.
That's a broad selection. Are you a fan of the liberal arts concept?
Actually, I wasn't always set on a liberal arts college. I'm a very serious musician—I play classical guitar—so I applied to conservatories last year. Finally deciding to come to Yale was very much about wanting to do the liberal arts thing. I love the fact that I can be part of this seminar at the School of Music and be taking a class with a law school professor.
Will this kind of education help you as a musician?
You can play great music without having gone to college; a lot of people do. So I don't subscribe to this idea that you need to have a liberal arts education. But it's a great experience if you can have it. I'm privileged to be in a position where I can, and I'm going to take advantage of it.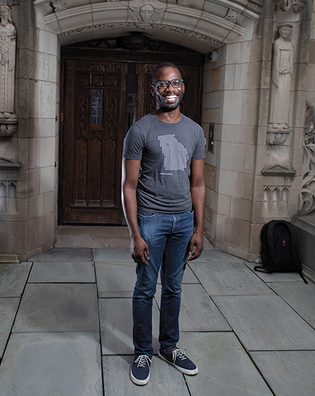 Mark Ostow
Joel Thompson '20MusAM
Atlanta, Georgia
School of Music
How did you decide to be a composer?
My undergrad degree was in piano, but then I switched to choral conducting. Composing was a dream that I didn't think was possible.
Because?
My family is from Jamaica; I came to the US when I was ten. And you see the amount of sacrifice that was meant for you, and they tell you, "You don't have to live in poverty like we did [as children]. You should be a doctor." So I went to Emory with the intent of being a doctor. To convince them that I was a musician took some work, even though we were a musical family.
You've composed a choral work, Seven Last Words of the Unarmed, using the last sentences of seven black men killed by police [and George Zimmerman].
Yes, I was inspired by a pictogram series [about the men] by Shirin Barghi on Twitter. Those pictograms were really moving to me. I used the liturgical format of the seven last words of Christ, not in an effort to deify [the men] in any way, but to highlight their humanity. Now I'm working on my first opera commission, based on The Snowy Day by Ezra Jack Keats. After writing Seven Last Words, I'm looking forward to working on a project on the other spectrum of black humanity: joy, and love, and calmer things. I'm hoping to highlight the virtues of introspection and empathy and childlike wonder.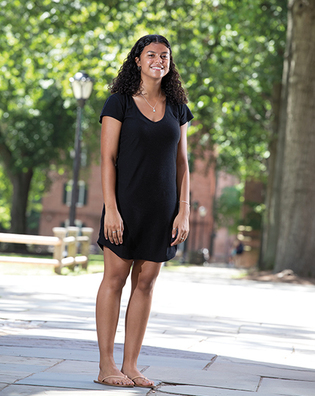 Mark Ostow
Kai Alexis '22
Silver Spring, Maryland
Berkeley College
What do you plan to study?
I'm doing premed.
Why do you want to be a doctor?
It's just a really great profession. It's very well-rounded: you're doing something really important and then you're also helping people, and you can take that anywhere. And that's something I want to do—travel. And I like science and math. So . . . yeah.
Did you go to a pre-orientation program [for first-year students]?
Yes, Cultural Connections. I actually didn't want to do it. My mom made me, and I signed up on the very last day. I loved it. It was so fulfilling and fun. I wasn't expecting that.
What did you love about it?
The friends that you make. It's so nice to start the year with a community. Otherwise it's a lot of adjusting—to be away from home, starting college.
Did you bring anything special from home?
I think a lot of people, when they come to college, buy new stuff. I pretty much brought stuff that I had at home, like my lamp. I also brought my plant.
What kind of plant?
I really don't know. It's one that hangs down. I just like the way it looks.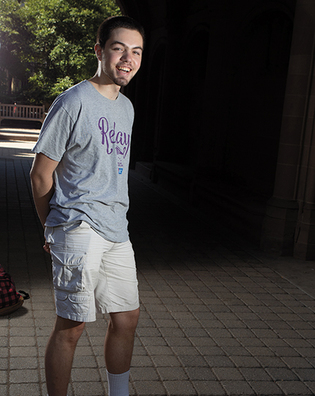 Mark Ostow
Eitan Minsky-Fenick '22
New Haven, Connecticut
Branford College
What class are you looking forward to?
English 125, which is seventh- through seventeenth-century poetry. I love poetry. So that's what makes me weird as a physics major.
Is that actually unusual?
At Yale, probably not.
Have you read any seventeenth-century poets?
Let's see. I think Milton might have been in the 1600s. I haven't read most of the material, which is why this course is going to be fun. And I like the old stuff, significantly. So I'm ready for this.
Do you have any extracurriculars in mind?
I'm looking to join the aikido club and I'm auditioning for Magevet [an a cappella group]. And maybe I'm looking for a physics thing to join.
Given that you're familiar with New Haven, has anything surprised you?
It is a different way of looking at the city. I was used to walking around and seeing all the students everywhere. And now I still do that, but I know them. I'm one of them. Plus, I've actually never been on Old Campus before—really trodden the ways of the student.