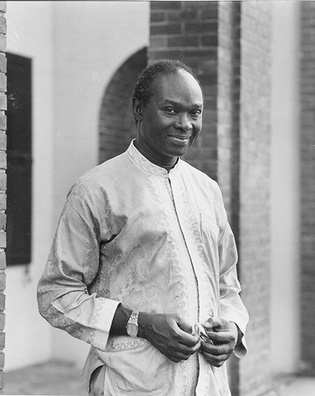 Gabe Cooney
Lamin Sanneh, shown here in his early years as a Yale faculty member, grew up in poverty in Gambia and became a world-renowned scholar. View full image
"We pay tribute to a life that began on an island in the River Gambia and finished its course here at Yale University," said Divinity School dean Gregory Sterling at a funeral mass in January for Lamin Sanneh, a celebrated scholar of Christianity and Islam. Sanneh, the D. Willis James Professor of Missions and World Christianity at the Divinity School and a professor of history at Yale, died on January 6 in New Haven at age 76.
One of 11 children of two mothers in a poor Muslim family in Gambia, Sanneh once described his childhood as "a series of uneasy truces," explaining that "in a crowded household, what counted was not the frequency of quarrels and disputes as much as the frequency of letting go." Perhaps it's no coincidence that Sanneh became known as a bridge builder, "helping people gently but firmly rethink their preconceptions about the history of Islam, about the nature of Christian missionary work, and about the relationship between faith and civil society," as his son, New Yorker writer Kelefa Sanneh, described his father's work at the funeral.
Sanneh became a Christian as a teenager and won a scholarship to study in the United States. He graduated from Union College, then earned a master's from the University of Birmingham and a PhD in African Islamic history from the University of London. He taught in Scotland and in Ghana before returning to the US to teach at Harvard Divinity School. He came to Yale in 1989.
His books covered topics as varied as Muslim pacifism, Christian mission, and the role of freed American slaves in combating the slave trade in Africa. Last year, a Christian group announced the establishment of Sanneh Institute, a home for advanced study of Christianity and Islam at the University of Ghana, where Sanneh taught from 1975 to 1978.
In addition to his son, Sanneh is survived by his wife of 45 years, Sandra Sanneh '93MA, a Yale senior lector in African languages; a daughter, Sia Sanneh '07JD, an attorney with the Equal Justice Initiative; and two grandsons.