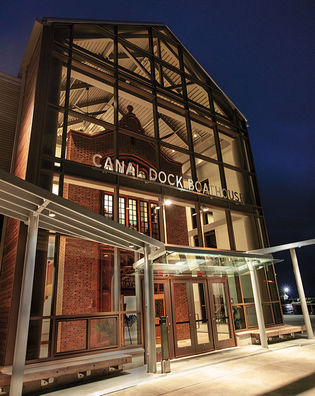 Bob Handelman
The glory years were fleeting for Yale's Adee Memorial Boathouse. Built on New Haven Harbor in 1911, it was used by varsity crews for only five years before they moved to the Housatonic River. Intramural crews used the Adee until the 1940s, but after the war, Yale leased it out and eventually sold it for use as a warehouse and offices.
Yet the nearly forgotten landmark is now well remembered at New Haven's Canal Dock Boathouse. This new hub for community rowing and boating on the harbor was funded by the federal government as compensation after the Adee was demolished in 2007 to make way for a bridge. The new boathouse opened in September. It displays several mementos from the Adee, including its brick-and-terra-cotta entrance (seen here behind the new building's glass façade), terra-cotta bulldogs, and fireplace.
Elegant as the Adee was, rowers did not love New Haven Harbor in those days. In 1916, one alum wrote to this magazine that "the eternal rough water, evil smells, interminable oyster stakes, and unpleasant surroundings demand a stout heart of the oarsman who is game enough to endure it all." Here's hoping today's rowers have fairer seas.