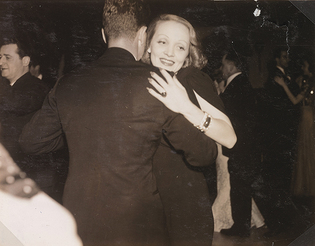 Beinecke Rare Book and Manuscript Library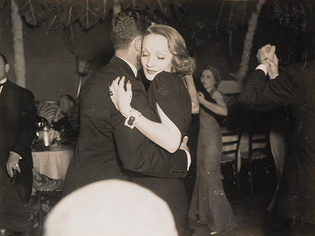 Beinecke Rare Book and Manuscript Library
Marlene Dietrich's turn on the El Morocco dance floor with Cornelius "Sonny" Vanderbilt Whitney '22 in the spring of 1938 was captured by photographer Jerome Zerbe '28. These photos and others by Zerbe are on view from mid-May through mid-August 12 in a Beinecke Library exhibit, Life of the Party. View full image
It's late spring in 1938 at El Morocco, the most popular nightclub in New York City. Situated at 154 East 54th, the club attracts the famous, the glamorous, the wealthy, the influential. Marlene Dietrich is dancing with a partner. A year before, she was one of the highest-paid actresses in Hollywood, but recently, her shine has dimmed. It will be another year before Destry Rides Again brings her back to the top of the film fan lists. But she betrays no anxiety, radiating beauty and, well, bling, by showing off two of her favorite pieces of jewelry: a Trabert & Hoeffer-Mauboussin emerald-and-diamond bracelet and a Flato emerald ring.
Dietrich is in the arms of Cornelius "Sonny" Vanderbilt Whitney '22, a dashing businessman who would later serve in the Truman administration and back the start-up Pan-American Airways (founded by another Yale man, Juan Trippe '20S). His face remains out of view in the photographs here, but no matter. The attention is all on Marlene.
The photographer who framed the pair was Jerome Zerbe '28. His pictorial legacy of nightlife at El Morocco now resides at the Beinecke Rare Book and Manuscript Library, thanks to the gift of collector Frederick R. Koch '61MFA.
Zerbe, who hailed from Euclid, Ohio, spent four very socially active years at Yale, including serving on the staff of the Yale Record. He found his métier as a photographer in the 1930s—first as arts editor for Cleveland's high-society Parade magazine, then as the on-site shutterbug at John Perona's El Morocco, a speakeasy that went legit when prohibition ended in December 1933. Zerbe was friendly with the clientele, which included the likes of Clark Gable, Cary Grant, Gloria Swanson, Carole Lombard, Mona Williams, Brenda Frazier, and many Rockefellers, Astors, and Whitneys. They happily posed for his shots, which were distributed gratis to magazines and newspapers to generate publicity for the nightclub.
During World War II, Zerbe served in the Navy as Admiral Chester W. Nimitz's personal photographer, working mainly in the Pacific theater of war. He became the photo editor for Town & Country Magazine in the late 1940s. His work in the 1960s and 1970s included making images for print advertisements and documenting private houses and celebrity gatherings. He found a wider audience when longtime New Yorker writer Brendan Gill '36 urged him to compile a retrospective. In 1973 it was published as a book, Happy Times.
The Beinecke's Zerbe collection includes 50,000 individual shots he took during his lifetime, from his time as a Yale student to his last years as a photographer. A selection, tracing his career over six decades, will be on view at the Beinecke from May 16 to August 12 in the exhibition Life of the Party: Jerome Zerbe and the Social Photograph.
Zerbe pasted most of his photo prints into chronologically arranged albums, with individual shots numbered sequentially. Many images are also annotated with information about where they were published. The lower shot at left of Dietrich and Whitney dancing together appeared in El Morocco's in-house magazine, No News, and in the July 1938 issue of the popular film publication Silver Screen. Zerbe had a monthly column in Silver Screen called Flashshots, and in that issue the Dietrich-Whitney photo was its highlight. Flashshots had a tagline: "When the picture stars come within range of his impudent New York lens, Zerbe bags 'em."