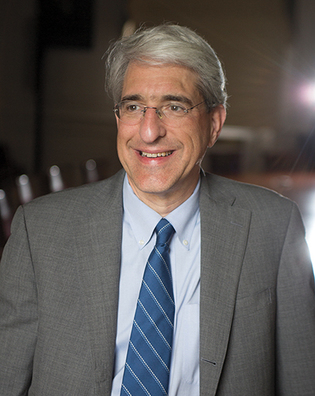 Mark Ostow
Dear Friends,
As graduates of Yale, we share an enduring connection to one another and to this great university. By strengthening our bonds as citizens of Yale, we can further amplify our contributions to society.
This letter is one way alumni can stay informed about events on campus and in the broader Yale community. Starting with this edition of the Yale Alumni Magazine, in place of the interview I did for many years with our esteemed editor-in-chief, I will now communicate directly with you. I hope you enjoy this new approach.
In April, we celebrated the 50th anniversaries of the Asian American Students Alliance at Yale and the Movimiento Estudiantil Chicano de Aztlán de Yale. These student groups were born during a time of sweeping change in our country and on our campus. Their anniversaries allow us to reflect on the decades of hard work—by students, alumni, university leaders, faculty, and staff—that have created opportunities for students from diverse backgrounds at our university.
Today, we continue to lead efforts to expand access to Yale and help all our students thrive here. I am proud that this year's first-year class is the most socioeconomically diverse in the history of Yale College. More than 1,000 undergraduates now qualify for federal Pell Grants for low-income students, including nearly twice as many in the first-year class compared with five years ago. Eighteen percent of first-year students are the first in their families to attend college, an increase of 75 percent over the same period. Opening our doors to students regardless of their ability to pay requires resources, and I am so grateful for the alumni who support this university. This year we offered more than $160 million in financial aid, helping to make a Yale College education affordable for every student.
Our professional and graduate schools are also making strides toward greater access and affordability. At Yale Law School, 46 percent of this year's first-year students identify as students of color, and 48 percent are women. Nine percent are the first in their families to attend college, and 27 percent are the first in their families to attend professional school. Access also means affordability, and this year the School of Medicine announced it was further reducing the unit loan—how much medical students who receive need-based scholarships are expected to borrow to pay for their education—by 50 percent. Medical students will receive greater financial aid through scholarship funds, rather than loans.
Once students arrive at Yale, we ensure they have the tools they need to succeed. Our efforts start before the first day of classes. We are expanding two signature Yale College programs—Freshman Scholars at Yale (FSY) and Online Experiences for Yale Scholars (ONEXYS)—that provide incoming students with support to help them transition to college life. We have more than doubled enrollment in FSY since its inception in 2014. We have tripled enrollment in ONEXYS since 2015; it now serves about 150 students each summer. A new initiative, the Domestic Summer Award, provides stipends of $4,000 to students receiving financial aid, so they can take an unpaid summer internship or apprenticeship. Last summer, in its first year, 191 undergraduates took advantage of this opportunity.
Increased access to Yale provides our community with unprecedented opportunities to benefit from an enormous range of ideas, brought to campus by students from every part of society, with every imaginable background and point of view. And the free exchange of ideas is integral to Yale's mission. Forty-five years after the publication of the Report of the Committee on Freedom of Expression, better known as the Woodward Report, Yale continues to abide by it: "The history of intellectual growth and discovery clearly demonstrates the need for unfettered freedom, the right to think the unthinkable, discuss the unmentionable, and challenge the unchallengeable." To that end, we convene scholars, world leaders, public figures, and practitioners representing a broad spectrum of beliefs and perspectives. We continue to look for opportunities to ignite discussion and nurture diverse viewpoints, urging students to grapple with complex and challenging issues.
The stories of Yale alumni are an essential part of the story of the university. As we celebrate more anniversaries in the coming years—50 years of coeducation in Yale College, 150 years of women at the university, and 50 years since the founding of the Afro-American Cultural Center—we have the opportunity to connect the past and the future of our great university. We will continue to strengthen our community and create an environment where all feel encouraged to share ideas openly across intellectual, historical, and social perspectives. I look forward to working with you as we fulfill our responsibility to "improve the world today and for future generations."
With my warmest wishes,
Peter Salovey
President
Chris Argyris Professor of Psychology