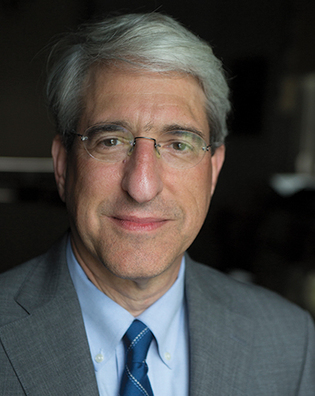 Mark Ostow
Dear Friends,
Throughout over 300 years of history, Yale graduates have served their communities, nations, and world with distinction. Today, our mission of education and research demands that we prepare leaders for a complex and interconnected global community. With students from 123 different countries and research endeavors on every continent, Yale is a truly global university committed to tackling our most pressing challenges.
I am delighted that in April, the Yale board of trustees voted to transform the Jackson Institute for Global Affairs into a school—the Yale Jackson School of Global Affairs. This new professional school—the first at Yale since the School of Management was established in 1976—will convene experts from across the university and beyond and foster significant multidisciplinary scholarship. As I wrote to the campus community, "Now more than ever before, our world needs creative ideas to help end global conflicts and heal individuals and communities. By establishing the Yale Jackson School of Global Affairs, Yale will continue to fulfill its responsibility to teach students to become leaders who will tackle challenges with wisdom, facts, insight, and courage."
Yale has a unique role to play in harnessing knowledge and insight to address global issues. My vision of "a more unified Yale," which I spoke about in my inaugural address six years ago, means bringing together scholarship and resources from Yale's many disciplines and schools to build on our university's strengths. The Yale Jackson School will draw students, experts, and practitioners from across and beyond Yale, convening a diverse array of thinkers and policymakers working on issues such as climate change, migration, violence, disease, and inequality. It will also advance one of our key academic priorities by applying empirically driven social science research to the most pressing issues of our time.
I am thrilled to report that opportunities for international collaboration are multiplying across Yale. The Yale Africa Initiative, now in its sixth year, is one of the most exciting areas of growth. Students and faculty in medicine, public health, business, architecture, environmental studies, and many other areas are working with colleagues across the continent to develop innovative and life-saving solutions to disease outbreaks, sanitation, housing shortages, and wildlife conservation. The outcomes from these collaborations promise to be extraordinary.
International cooperation allows Yale to share our discoveries far more broadly. The Yale Institute for Global Health (YIGH), for example, collaborates with partners to develop and disseminate research for improving health systems in China, Ghana, Tanzania, the United Kingdom, and the United States. This year, we welcomed Dr. Saad B. Omer as the YIGH's inaugural director. Led by the Schools of Medicine, Nursing, and Public Health, the institute is a university-wide effort to address global health issues through education, research, and outreach, including fellowships that support students and faculty undertaking vital international research.
Our faculty and students are eager to understand an ever-changing world and their place in it. This year's DeVane Lectures, entitled Power and Politics in Today's World, will be given by Sterling Professor of Political Science Ian Shapiro. Focusing on political and economic developments that have reshaped the global order in the last quarter century, the course begins with the collapse of the Soviet Union and examines the September 11 terrorist attacks, the 2008 financial crisis, and China's investments in Africa, amid other key topics. Established in honor of William Clyde DeVane, longtime and beloved dean of Yale College, the DeVane Lectures are open to Yale students and members of the public; local alumni are welcome to participate. Next year, the lectures will be available for free online through Open Yale Courses.
Yale's alumni continue to inspire us with their commitment to "improving the world today and for future generations." This year, the Yale College Class of 2019 selected the acclaimed writer Chimamanda Ngozi Adichie as Class Day speaker. Adichie, whom the Class Day 2019 planning committee described as "an inspiring global citizen," received her master of arts in African studies from Yale in 2008. In addition, Yale awarded Adichie an honorary degree at this year's commencement ceremonies, recognizing her outstanding literary contributions and social advocacy.
Yale aspires to prepare global leaders and global citizens. I am grateful for the example you set for our students as we endeavor to fulfill our responsibilities as citizens, leaders, and Yalies.
With my warmest wishes,
Peter Salovey
President
Chris Argyris Professor of Psychology