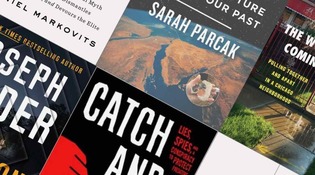 Archaeology from Space: How the Future Shapes Our Past
Sarah Parcak '01
Henry Holt, $30
"My entire life is in ruins," declares Parcak. But she's not lamenting; the statement is literal. The award-winning archaeologist has written an insightful and charming memoir about her field's pioneering use of satellite imaging techniques, which have helped pinpoint previously undetected ruins in Egypt and the Middle East, Central and South America, and Europe, as well as those left behind by the Vikings in Maritime Canada. Parcak has also built a popular website to involve citizen scientists in the discovery process and experience "the greatest gift I know as an archaeologist: wonder."

House on Fire: A Novel
Joseph Finder '80
Dutton/Penguin Random House, $28
In a thriller ripped straight from today's headlines, Conrad Kimball has built a vast pharmaceutical empire and an enormous fortune on pain and its alleviation through a "miracle drug" called Oxydone, a highly addictive killer. Conrad's guilt-ridden daughter, Sukie, hires private eye Nick Heller to infiltrate Kimball Pharma—and the heart-stopping hunt is on for long-suppressed evidence of the drug's dark side, which Conrad hid from federal regulators. "I want leverage. I want blackmail," Sukie tells Nick. Will he succeed? Will he survive? Finder keeps you on the edge of your chair.

The Meritocracy Trap: How America's Foundational Myth Feeds Inequality, Dismantles the Middle Class, and Devours the Elite
Daniel Markovits '91, '00JD
Penguin Press, $30
The American Dream is based on the notion that "social and economic rewards should track achievement rather than breeding," writes Markovits, a Yale Law professor and ardent meritocrat. But hard work and skill are no longer enough. He argues that meritocracy actually "blocks the middle class from opportunity" and traps the elite "into a pitiless, lifelong contest to secure income and status through its own excessive industry." The situation creates "toxic inequalities," Markovits writes. He proposes an update of Marx and Engels: "The workers of the world—now both middle class and superordinate—should unite."


The World Is Always Coming to an End
Carlo Rotella '94PhD
University of Chicago Press, $27.50
Rotella, a Boston College professor and writer, grew up in Chicago's South Shore—a handsome but rough neighborhood of striving middle-class families, black and white. At the time, the area was beginning to suffer from drugs, gangs, and crime; after the 2008 financial crash it would struggle again, battered by depressed housing values and failed businesses. The book explores the community's changing character and fortunes through a highly personal blend of urban sociology, DIY journalism, and strategic memoir. Rotella evokes both bleakness and hope as he meditates on the grit of its hardy denizens, the cruel divisions of class and race, and the very idea of neighborhood itself.

Catch and Kill: Lies, Spies, and a Conspiracy to Protect Predators
Ronan Farrow '09JD
Little, Brown/Hachette, $30
Harvey Weinstein was such a successful movie producer that Meryl Streep '75MFA once referred to him, jokingly, as God. In his relations with women, however, Weinstein was more akin to the Devil. As long-whispered rumors about sexual harassment and worse began to surface in 2017, Pulitzer Prize–winning investigative reporter Ronan Farrow took on the case for NBC. Then things got very strange: Weinstein hired the Israeli private-intelligence outfit Black Cube to "catch and kill" the network's investigation. Eventually, Farrow would publish his findings in the New Yorker. In this fast-paced and meticulously researched book, he tells the tale of how he unearthed one of the more disturbing stories of the decade.