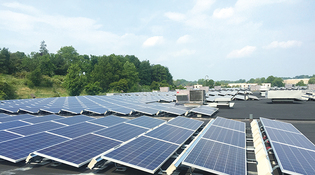 John Atherton
Solar panels at Yale's West Campus. View full image
On a weekday morning in April of 1998, three Yale undergraduates stepped out of the basement of Silliman College and into a spring day. The air was crisp, and the magnolia trees were blooming. As they crossed Grove Street, the students balanced stacks of slim bound documents in their hands. Their names—Everett Meyer '98, Deborah Sabater '99, and Emma Tsui '99—were printed on the title pages.
The group's destination, the Dean of Yale College's office, was a block away. When they arrived, the students handed the reports to a member of the dean's staff and a senior administrator, who promised to distribute copies to the university president, provost, and others. The students thanked them and left. After all those hours typing late into the night on the PowerMac in their basement office (furnished with a couch and worm-filled compost bins), and reviewing drafts at the print shop on Broadway, the handoff was surprisingly fast. Walking back, the students felt optimistic, Meyer remembers. Everyone who had read the report so far had been impressed. But within minutes, they began discussing what to do if the university ignored them.
Meyer, Sabater, and Tsui were members of the Yale Student Environmental Coalition (YSEC), an undergraduate club still active on campus. The document they had just delivered—which took about 50 contributors more than a year to complete—was the Yale Green Plan, a collection of detailed recommendations to make the university more environmentally sustainable. The Green Plan's proposals would set in motion profound changes, both on Yale's physical campus and in the university's role in fighting climate change.
That spring morning "began the modern era of environmental management on Yale's campus," says Ginger Chapman '85MA, director of the Yale Office of Sustainability. Two decades later, Yale is greener, bike-friendlier, and more energy-efficient than it was in the '90s. Rick Levin '74PhD, who as Yale president from 1993 to 2013 oversaw the university's environmental awakening, says the changes on campus from the early days of his tenure are "profound": "It's a different world today."
If you know where to look, signs of change are all around. On the rooftop of a large building on West Campus, 4,400 solar panels generate enough electricity to power more than one hundred homes. In the dining halls, food waste is collected for compost. Behind the gates of certain residential colleges, kale, pumpkins, and popcorn grow in organic gardens, tended by student gardening clubs and Joseph Signore, a senior groundskeeper with a passion for edible, pesticide-free landscaping. Kroon Hall, on Science Hill, is outfitted with passive heating and cooling features, as well as solar panels for electricity and hot water. And the School of Forestry and Environmental Studies (FES), headquartered in Kroon, is one of 28 schools and offices enrolled in Yale's carbon-pricing program, which fines or reimburses campus units based on how their energy efficiency compares with the university's overall.
Leadership and support for these efforts come from 70 Whitney Avenue, where the Office of Sustainability has its home. That office, led by Chapman, has helped Yale reduce its greenhouse gas emissions by 20 percent since 2005—even as the campus's area has expanded by 21 percent and its student body has grown by 30 percent. Now, the sustainability office has an ambitious goal: cutting Yale's carbon emissions to net zero by 2050.
It won't be easy. As a first step, the office has published a plan that sets out Yale's environmental priorities and ambitions through 2025. But since that plan's development, Chapman says, Yale has made an effort to chart a path toward carbon neutrality. This spring, Chapman and her colleagues will announce a road map.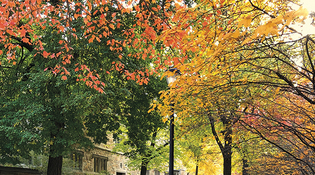 Kim O'Malley
One of Yale's stations for bicycles that anyone can ride and return. View full image
What might a carbon-neutral Yale look like? Chapman says that by 2050, the regional energy grid will draw more from renewable sources, "and our campus will have transformed from gas-fired cogeneration power plants to electric-powered plants."
But as long as Yale's power plants burn natural gas, and New England's electricity comes partly from oil, the ultimate aspiration—zero emissions—may still be a generation away. Achieving carbon neutrality, Chapman says, means Yale's net carbon footprint. Yale will cut its emissions as much as possible and balance out the rest through carbon-offset projects that reduce New England's overall carbon emissions. As an example, she cites the Record Hill Wind Farm, which Yale developed in Maine to add more renewable energy to the regional grid. Offsets are "a stepping stone," Chapman says. But eventually, Yale's power plants will start drawing electricity from that grid.
There's little precedent for the university's plans. But unprecedented action is exactly what scientists say is required. Last October, the UN Intergovernmental Panel on Climate Change (IPCC) declared that, without "rapid, far-reaching, and unprecedented changes in all aspects of society," global temperatures will rise by more than 1.5 degrees Celsius, devastating human and animal habitats, acidifying the oceans, and unleashing disastrous weather. Yale's 2050 target aligns with the Paris Agreement and the State of Connecticut's commitment.
Sustainability efforts like Yale's are part of a new paradigm in climate-change action, says Daniel Esty '86JD, a professor of environmental law and policy at FES and the Law School. As a negotiator for the United States on the 1992 UN Framework Convention on Climate Change, Esty helped to construct the old paradigm. "The vision we had at that time was very much a top-down vision," Esty says, "where the national governments would agree on targets and would effectively drive the process of delivering on those targets."
But the top-down strategy wasn't enough. Since the late twentieth century, greenhouse gas emissions have soared, glaciers have melted, catastrophic weather events have increased, and the planet's future looks more precarious than ever. Why didn't international agreements prevent this? The problem in the old thinking, Esty says, was structural; it depended too much on heads of state. And presidents and prime ministers, he adds, have less control over their countries' economies and carbon emissions than he and his colleagues once assumed.
For the last decade, many environmentalists have been working toward a "bottom-up" approach, to supplement climate action led by national governments with the work of smaller entities that can act unilaterally. This includes states, cities, businesses—and universities. Compared with cities or states, Esty says, universities often have more flexibility to experiment. One example at Yale is the carbon-charge program, developed in 2014 and 2015 by a task force chaired by Sterling Professor of Economics William Nordhaus. Another is much more recent. Dean Takahashi '80, '83MPPM, the former senior director of the Yale Investments Office, stepped down in September to found the Yale Carbon Offset Laboratory. His COLab will work with scientists who are inventing new technologies, especially those that can be tested rapidly and easily scaled up.
Tim Carter, president of the climate nonprofit Second Nature, sees another opportunity for places like Yale: they can change the culture by persuading the next generation of leaders to take sustainability seriously. "Roughly 3 percent of the energy used in the US is from the higher-ed sector," Carter says. But 100 percent of college graduates pass through higher-education institutions. "So, when you think about impact," he says, "you have to think about both of those things."
At Yale, the shift to "bottom-up" climate action was led by students, starting with the 1998 Green Plan. "Without that push from students" and the support of others in the university, Chapman says, "Yale would probably not have been one of the first college campuses to start an office of sustainability."
Students are pushing Yale in new ways now. "This university has gotten so many good ideas from its students," Mary Claire Whelan '19 says. "Incredible work has been put into making it a more sustainable and more climate-conscious place, and a lot of that has been student-driven." But the university has resisted some student demands, she adds. Before graduating in May, Whelan was active in Fossil Free Yale (FFY), a coalition of students and New Haven residents pushing Yale to divest from the fossil-fuel industry and cancel its holdings in Puerto Rico's debt. Last December, FFY adopted a strategy of civil disobedience—such as the protest that held up the 2019 Yale-Harvard football game, making national news and leading to the arrests of some 50 people. (See Light & Verity, page 18.)
In April, YSEC—the group behind the 1998 Green Plan—completed a list of every item in the sustainability office's recent progress reports they felt needed improvement. "That's what student groups are for, right?" says Daniela Schulman '20, one of YSEC's copresidents. "If there are things that we're not happy with, or things that we think Yale could do better, it's our job to advocate for those things."
Chapman says she's grateful for student engagement on environmental issues, even when they disagree: "It's a good thing to push leadership."
Students for Carbon Dividends (S4CD), founded last year by Alex Posner '19 and George Gemelas '18, sees potential for policy action in this generational divide. S4CD is a student-led movement advocating a federal tax on carbon emissions, like Yale's carbon charge on a nationwide scale. This campaign, centered on college campuses, has won support not only from environmentalists and Democrats, but also from more than 50 conservative groups, including the college Republicans of Yale, Harvard, and the University of Alabama. Data gathered by Yale's Climate Communication Program show that young people across the political spectrum are concerned about global warming. S4CD's experience backs this up. Despite the skepticism about climate change among some older Republicans, Gemelas says, "if you talk to students and people who are coming into themselves, they understand from their science classes that this is an issue."
FFY's Whelan sums up the generational difference: "Young people know what's up." For people her age and younger, "there's just never been a time in their lives when the world was not in peril. We don't think we can gradually reform our way to climate justice. We know there has to be bigger change."