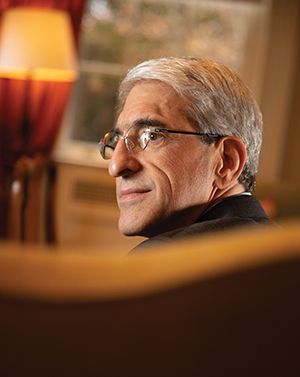 Mark Ostow
The Yale Alumni Magazine publishes a letter from President Peter Salovey '86PhD in every issue. In this letter, the president discusses some of Yale's efforts to help fight the pandemic, from science and medicine to online learning. View full image
Dear Friends,

I write to you in the midst of great uncertainty. The rapid spread of coronavirus disease 2019 (COVID-19) around the globe has upended our daily routines and our long-term plans. It has forced us all to confront a world that looks dramatically different than it did just a few months ago. And it has asked us, as individuals and as members of the human family, to do what we can to help others in this time of great need.
As I told members of the Yale College Class of 2022, "Our world is desperate for new ideas and solutions. . . . We need breakthroughs in our ability to fight disease, alleviate suffering, and find justice. We need answers to urgent and long-standing questions."
This pandemic has shown us how much we need those ideas and solutions, and it has reminded me—and many of us—why Yale's search for answers is so important. We are inundated with news and information, and yet we feel the weight of uncertainty. We are encouraged by facts and expertise, and yet we are humbled by the questions that remain unanswered. We must accelerate discovery so we can bring relief to those who are suffering.
Over the past several weeks, I have thought again and again about Yale's mission. This university is home to a remarkable group of scholars and educators—all dedicated to creating and sharing knowledge. Our search for answers is essential during this time of grave uncertainty. And, when this moment of crisis has passed, Yale's commitment to education, research, and practice will endure. It is our way of serving humanity.
Each day, I learn of new efforts aimed at curbing this pandemic and caring for our world. In cooperation with colleagues from universities around the nation and the globe, Yale's faculty, clinical staff, and other investigators are drawing from their areas of expertise to address the challenges posed by COVID-19. From medicine, nursing, and public health, of course, but also from fields as diverse as psychology, economics, history, and management, they are contributing to vital research, helping our health-care systems adapt, communicating with the public, and teaching students. They are working together to prepare the university and take bold measures to protect our community and our neighbors. Their efforts demonstrate not only the power of scholarship, but also compassion and collaboration.
So many staff and faculty members have been working hard, largely behind the scenes, to ensure the continuity of Yale's teaching, learning, and research missions and protect the most vulnerable among us. Yale Health and hospital employees are at the front lines caring for patients. Our facilities and operations teams have stepped forward and responded with creativity and resourcefulness to many unexpected challenges. Staff in Information Technology Services and the Poorvu Center for Teaching and Learning have shepherded and supported faculty and students as they embark upon online learning. All our students, but especially those who graduate this spring, have given up many important experiences, celebrations, and rites of passage. They have demonstrated courage, resilience, and selflessness.
I have never been prouder to be a citizen of Yale. And never before has our Yale citizenship been more essential for addressing the challenges we face. We appreciate in a profound way the invaluable expertise of scholars, researchers, and professionals. At the same time, we know there is much to be done—and many questions to answer—in the days ahead.
I believe, more strongly than ever before, that our search for answers can ease suffering, improve lives, and give meaning and purpose to our days. Joining together with scholars and universities around the world, Yale's search for answers will continue. That certainty gives me hope during this unsettling time.
With gratitude to all those who are responding to this crisis, I join you in affirming Yale's mission—our commitment to seek light and truth—today and in the years to come.

With my warmest wishes,
Peter Salovey '86PhD
President
Chris Argyris Professor of Psychology