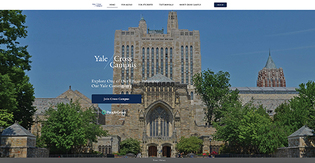 The home page for Cross Campus, the YAA's new networking site. View full image
If you received an email promoting Cross Campus—the Yale Alumni Association's new networking platform—and assumed our alma mater had simply built a more elitist version of LinkedIn, you'd be forgiven. I thought the same thing. However, I am here to tell you that we were (mostly) mistaken.
Yes, Cross Campus is yet another social network, but it's also a big-hearted initiative that aims to better connect advice-seeking students to alums, and alums to each other, fostering deeper connections with a little help from algorithms. (You can sign up at crosscampus.yale.edu.)
Cross Campus is hosted by PeopleGrove, a company that specializes in networking platforms for universities; their clients include Arizona State University, UC–Berkeley, and Stanford. The setup is slightly tedious. (I stopped halfway through and came back.) While you're able to autopopulate biographical information from your LinkedIn profile, there is also a mandatory series of questions asking how frequently you'd like to be contacted, if you're interested in speaking at a Yale event, and your areas of interest and expertise: defense? Dairy?
These questions, though, are what differen-tiates the platform. Based on your interests, you'll find like-minded Yalies in the "Recommended for You" module on the homepage. You can also find kindred spirits in Groups (1stGenYale currently has 153 members, and Yale Crew 54), or solicit advice. Only want to connect with three Yalies a month? Your will be done.
It's a thoughtful platform, but the real question is: will anyone use it? Refreshingly, the site lacks a home page filled with the humblebrags and shameless self-promotion of LinkedIn, but it also lacks the memes, baby announcements, and envy-inducing photos of sourdough starter that draw users to Facebook and Instagram.
Nevertheless, early signup data for Cross Campus is certainly promising. According to Steve Blum '74, director of strategic initiatives at the YAA, more than one-third of Yale College students joined in the first eight weeks, and more than 6,000 alumni from all of Yale's schools, suggesting that Yalies are hungry for connection. In the next year or two, the YAA hopes to have 10 percent of living alumni on the platform—around 15,000 people.
One believer is Tara Falcone '11, a former suitemate of mine who now sits on the YAA Board of Governors. Falcone says that as a first-generation, low-income student, she didn't feel comfortable attending "schmoozy" on-campus networking events where alumni discussed their careers and shared practical advice. "I really didn't have any alumni to talk to, or know what other career paths were open to me." After applying to any and every job in the Yale career portal, she secured a position as a junior analyst at a hedge fund.
Today, Falcone runs a financial education company called ReisUP. She's already been contacted by a number of undergraduates through Cross Campus—many seeking guidance during this tumultuous time—and she has helped several find work to cover the new expenses they're incurring while away from campus.
Which brings up another factor that may contribute to Cross Campus's success: timing. The site's launch had been planned long before the outbreak of COVID-19, but with more than 36 million American jobs lost between March and May, and general uncertainty at an all-time high, we're all in need of a little advice and connection.