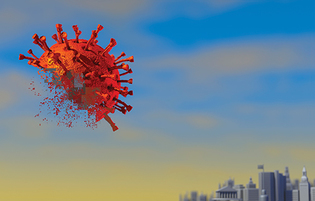 Richard Borge
Even a large university can turn on a dime.
In February, as the novel coronavirus bore down on Connecticut, Yale reorganized itself. The university sent most students home, shut down almost all labs, and started virtual classrooms. Faculty and staff worked from their homes. Hospital wards were revamped to handle COVID-19 patients.
As the fear and impact of the virus grew, the needs of the campus and the city shifted. People threw themselves into new projects: arranging socially distanced shelter for the New Haven homeless. Creating a website at the School of Medicine where researchers around the world can share data and ideas. The Jackson Institute for Global Affairs launched virtual discussion panels, with Ambassador Samantha Power '92, General Jim Mattis, and others sharing thoughts on a future shadowed by the virus. School of Management faculty delved into economic data to help chart a course for a faltering economy.

In the following pages, we've reported on a few of the many new projects on campus and in New Haven during this unprecedented period. And two essays—on the crumbling health-care system and the anguish of a doctor trying to help her sick family—give a deeper view into the dangers of the pandemic and the need for a sound system of care.