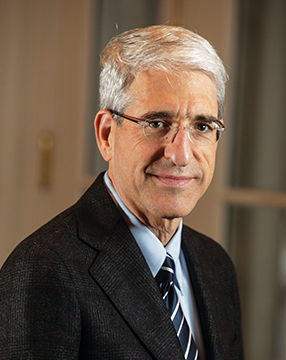 Mark Ostow
The Yale Alumni Magazine publishes a letter from President Peter Salovey '86PhD in every issue. In this letter, he discusses strengthening community by giving service. View full image
"How do we build community?" This seemingly simple question can be difficult to answer at a time when we must stay physically distant to do our part in slowing and preventing the spread of COVID-19. As the leader of a university and as a social psychologist, I find this question particularly intriguing, and I have had the opportunity to speak with many students, faculty, staff, alumni, and parents about it over the past several months.

In a typical year, we connect with one another at seminars, concerts, sporting events, meals in dining halls, and numerous other activities. Looking back over my four decades at Yale, one shared experience stands out as being especially meaningful during this turbulent period: serving others. Volunteering our time, expertise, and energy for our friends and neighbors is one of our responsibilities as citizens of Yale, and it is more needed now than ever. Service strengthens the bond we have with one another and with broader communities of which we are a part.

Although the COVID-19 pandemic has limited the ways we can come together as a community, it has not diminished our commitment to serve others. You are all familiar with the Yale Day of Service, when alumni, students, family, staff, faculty, and friends across the country and around the world volunteer to clean up community gardens, read to children, visit patients at nursing homes, sort donations at food pantries, plant trees, and much more. In response to the public health crisis, the Yale Alumni Association and the Day of Service cochairs, Paul Broholm '78 and Betsy Sullivan '74, '76MA, have transformed the annual event into a Year of Service for 2020. From online food drives to mentoring future first-generation students remotely, members of our community are doing what they can to help others get through this challenging time. If you have not had a chance to join one of these activities, I hope you will do so.

Yale faculty, staff, and students from across schools, programs, and disciplines also are finding other ways to share their passion and expertise as volunteers. For example, staff members from Yale dining have been filling hundreds of breakfast and lunch bags each day for those sheltering in place on campus, and they are donating food to soup kitchens and other organizations that serve those in need. Yale faculty members from the Schools of Public Health, Nursing, and Medicine are providing their expertise to local, national, and global leaders on how to track and stop the spread of COVID-19 as well as mitigate the pandemic's effects on communities. In addition, they have taught students across the three schools to conduct contact tracing for the City of New Haven and Yale.

Over the summer, undergraduate, graduate, and professional school students participated in service opportunities with organizations around the world. Thirty of them worked in New Haven as part of the Yale President's Public Service Fellowship program, contributing to economic development, neighborhood revitalization, and youth education. This program has been supporting fellows full--time every summer since 1994.

At the start of the summer, many President's Public Service Fellows felt trepidation about how their experiences would be shaped by the pandemic. They knew they had to work for their chosen public sector or nonprofit organizations remotely, so they wondered if they would be productive and make a difference for New Haven residents. When I checked in (via Zoom) with a number of the fellows at the end of July, I was pleased to see that they were having fulfilling experiences making virtual learning accessible to local immigrants and refugees, teaching music history to children, writing grants for a soup kitchen, and researching food sovereignty. In addition, I learned that New Haven host organizations were immensely appreciative of their work, especially because of the budget reductions many experienced as a result of the economic downturn caused by the pandemic.
In the past several months, students and alumni have also been able to create community in a new way through Cross Campus—an online networking and mentoring platform that launched fortuitously in April. Students and alumni are helping one another with career development and transitions, and they are sharing their goals and supporting one another in achieving them. Alumni and students have posted thousands of discussion threads and started dozens of Cross Campus groups, including ones focused on entrepreneurship, nonprofit work, and nursing and other health-care professions. Cross Campus now has 12,000 participants, including me! Yale College, the Graduate School of Arts and Sciences, and each of Yale's professional schools are represented on the platform.

"A thousand points of light": this is how the late George H. W. Bush '48—a president of the United States, a distinguished alumnus, and one of the honorary chairs of the 2014 Yale Day of Service—memorably described volunteers. I am grateful to all those within the Yale community who generously contribute their time, talents, and resources. You bring light to our city, nation, and world, and you strengthen our connections with one another. You are great stewards of this university and its promise for future generations.