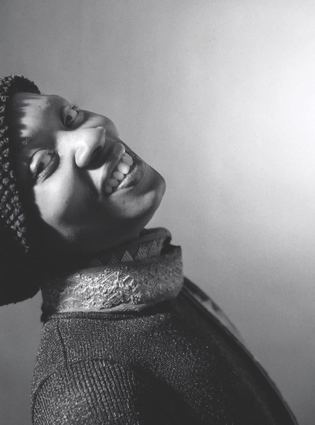 Perry Adleman-Clennon
This picture of New Haven's "Shakespeare Lady" was taken in 1977, when she was a graduate student in theater at Bennington. "I was mesmerized by Margaret's charisma," says photographer Perry Adleman-Clennon, then a Bennington undergraduate. "I have never forgotten how dazzling she was." View full image
Margaret Holloway '80MFA, known in New Haven as "the Shakespeare Lady," died May 30 of COVID-19, at age 68, in Yale New Haven Hospital.
A minister's daughter from Albany, Georgia, Holloway attended Northfield Mount Hermon School, where she was one of the few Black students. She blossomed at Bennington College. Her friend Laura Spector recalls that Holloway, the theater department's "queen," stood out for her "talent, poise, and charisma."
Holloway entered Yale School of Drama as an acting student, left, then returned to study directing. By all accounts she was a passionate theater artist. She nurtured those around her, though her intensity intimidated some. Her thesis focused on a "theater of hunger," an all too apt intimation of what lay ahead.
Three years after graduation, Holloway's schizophrenia emerged. She was resilient, surviving for four decades as a street performer whose recitations of Shakespeare enlivened the city. She often performed in front of Willoughby's or near Chapel and York. She was occasionally arrested for panhandling.
I first encountered Margaret's performances when I was a drama student in the late 1980s, but we really got to know one another in the early 1990s, when I was the Yale Rep's marketing director. The late Earle Gister, associate dean and chair of the acting department, asked me to hire Margaret as a telemarketer; she needed income to qualify for an apartment. I agreed, but the arrangement didn't last long. After that, we talked more when we met on the street. When I moved back to New Haven in 2006, after 12 years away, I was astonished that Margaret greeted me by name the first time she saw me.
In April 2018, when Margaret could no longer walk well enough to recite on the street, she moved from a supportive housing facility to a nursing home. Though she regretted her loss of independence, the nursing home provided stability: physical therapy, health care, meals, showers, clean clothes, a television. When I once suggested that we go out into the courtyard to enjoy the sunshine, she said that her room was "the cleanest place I've lived in 30 years" and she had no desire to venture out of it.
Although medication kept her schizophrenia at least superficially controlled, she was fully aware of the impact the disease had on her life. She had no peace except when she was asleep, but she often stayed up all night watching television or listening to '60s music to fend off the hallucinations that assailed her. She couldn't concentrate well enough to read—a bitter irony for someone who loved literature.
I visited her monthly, bringing her toiletries, notebooks, pens, and treats. We talked mostly about theater. She asked about the School of Drama and reminisced about performances she had given or directed. She'd wonder "whatever happened to" theater colleagues, and I'd tell her what I knew of their careers. We remembered when she attended the School of Drama's holiday party at the Yale Club in New York City several years ago. Someone bought her a new dress, a winter coat, and a train ticket, and she proudly held court at a prominent table.
We last met in early March, after which visitors were prohibited, but stayed in touch through April. Margaret was frightened of contracting COVID-19 and being stuck in the nursing home without seeing her friends. Sadly, those fears were realized. My phone calls went unanswered for two weeks, until mid-May, when a nurse told me she was in the hospital.
Margaret Holloway's love of theater and of people sustained her. Memories of Bennington and Yale, where she was young, healthy, and creative, remained vivid. She could speak authoritatively about directing Macbeth or animatedly recite speeches from Hamlet. Performing was a way to maintain her dignity—seeking an exchange with an audience, rather than a handout. She generously shared her art with friends and passersby, some of whom, like me, became friends. She is missed.