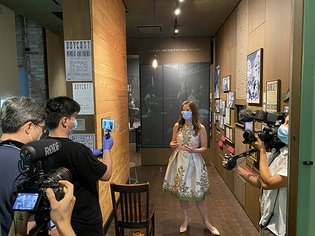 Museum of Chinese in America
Nancy Yao Maasbach
Museum Director
By Sibongile Sithe '11

Nancy Yao Maasbach '99MBA, president of the Museum of Chinese in America (MOCA), has a surprising pitch for the museum's prospective interns. "We're going to fail as your managers," she says, acknowledging their small staff and big mission, "but we still think it's a great learning opportunity."
Since taking the reins of MOCA in 2015, Yao Maasbach has had to reimagine what "good" looks like, on nearly every front. First up: assuring her parents that leaving her prestigious—and stable—position as executive director of the Yale-China Association to join a struggling museum was the right move.
The necessity of fundraising still makes her father nervous, she says. Her parents, who immigrated to Flushing, Queens, from China, "didn't grow up asking for money," she explains. "Even if we had very little income, they would never ask for money. You'd always want to pick up the check."
And in some ways, her parents' concern was well-founded. "I grew up in the '80s, when you made a lot of mixtapes," she tells me. "And I remember loving it. I could make mix tapes for all my friends. I'd be up until four in the morning, not doing my homework." After college, she spent a decade in finance, where she found that same sense of satisfaction in a job well done. "When I became an associate at Goldman Sachs, I could do these Excel spreadsheets forever. And I was like, 'Oh, this is like making a mixtape but there's no music.' But when I got to MOCA, I was like, 'This mixtape doesn't sound good.'"
Yao Maasbach, who describes herself as sometimes "too honest," minces no words about the challenges of running a nonprofit. On her very first day as MOCA president, she asked her assistant to print out MOCA's membership list. Her assistant responded, "I have been instructed not to open the database because it will crash." No one had any idea how many members they had. Since that panic-inducing day, Yao Maasbach has streamlined and centralized the museum's systems with help from the Tessitura Network and grown the museum's membership over 600 percent, from 408 to more than 2,500. She's spearheaded programs like food tours of Chinatown and workshops on photo preservation. And when museum staff discovered that not a single child who came through their doors could name a Chinese-American hero, the MOCA Heroes series was born.
But the MOCA mixtape is far from done. The museum is still dramatically under-resourced: Yao Maasbach has 13 full-time staff for a collection of 85,000 pieces. She has a current budget of $3 million—and a fund-raising goal of $128 million, to stabilize the organization and buy a building of their own. And 2020, which has tested us all, has been particularly challenging for MOCA. In January, a fire broke out in the building that held their archival collection. In March, the coronavirus hit.
Yao Maasbach's time at MOCA has changed her; she's taking risks in a way she didn't earlier. "I've become a different person," she says. "I go with my emotional instincts a lot more than I ever did before."