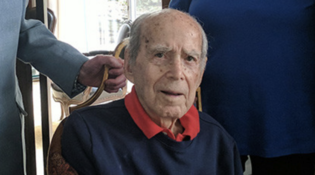 Brita Belli
Sperie Perkaos '38 at his home in Connecticut last year. View full image
Update, April 12: We're sad to report that Sperie Perakos '38 died last week at the age of 105. He will be interred with military honors at Grove Street Cemetery on Thursday.
Sperie Perakos '38 will receive France's highest recognition, the Legion of Honor, on October 29 at his home in Connecticut. The award will recognize Perakos's actions on the battlefields of France during World War II.
Perakos enlisted in the US Army in 1941, several months before Pearl Harbor. As a captain in military intelligence for the 448th Anti-Aircraft Artillery Battalion, attached to the 35th Infantry Division, he fought in Normandy and the Battle of the Bulge, helping the Allies push their way east toward Berlin after the D-Day landings. One of five Perakos brothers to serve during the war, he earned the Bronze Star in 1944.
In a private ceremony, Damien Laban from the French consulate in New York will present Perakos with the medal: a white, five-rayed star with green oak and laurel wreaths beneath a scarlet ribbon. Perakos's wife of 68 years, Nikki, describes the recognition as "very humbling for Sperie."
Perakos is a Connecticut native, born in New Britain. At Yale, he was a fencer—which may have helped him get through the fighting unscathed, says Constance Ecklund PhD '65, a family friend. After the war, Perakos went to work with his father, who owned and operated movie theaters throughout New England. The younger Perakos managed theaters and ultimately became the company's president. He attended international film festivals, seeking out new titles to bring home to Connecticut. In 1962, he produced an adaptation of Sophocles' Antigone, filmed in Greece, where the Perakos family originates. (According to reporting at the time, King Paul lent the production a white horse so the actor playing Creon, king of Thebes, could ride in regal style.) Perakos served for years on his class reunion committee and is a longtime supporter of the Peabody Museum.
Adrian Bonenberger '02, a member of the Yale Veterans Association, recalled Perakos attending the group's back-to-school barbecue last year and connecting with other Yalies about their experiences. "Watching him share stories from WWII with ROTC cadets and midshipmen in the class of 2022 and 2023, as well as veterans of Iraq and Afghanistan like myself, was a powerful intergenerational Yale moment," Bonenberger says.
Napoléon Bonaparte created the Legion of Honor more than two centuries ago, envisioning it as "a sign of virtue, honor, [and] heroism," that would recognize both "military bravery and civil merit." With a few design changes, the decoration has survived since then, maintaining its importance through a restoration, revolutions, and societal transformations. Each year, by law, no more than 2,800 French citizens can receive the honor, along with around 320 foreign nationals.