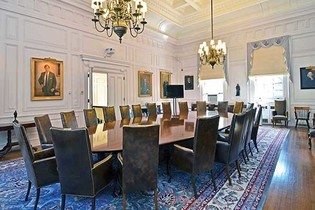 Michael Marsland
The Corporation Room in Woodbridge Hall, where Yale's trustees meet. Every year, alumni elect a trustee to a six-year term. View full image
If you're not sure you could pass a pop quiz on how the alumni elect a trustee to the Yale Board every year, you're not alone. Only about 12 percent of eligible alumni voted in last year's election. But this year's has drawn more than the usual interest from alumni, partly because, for the first time in 19 years, a self-enlisted candidate will be on the ballot. Here's a quick guide to how it all works.

Yale's Board of Trustees—formally, the Yale Corporation—consists of the president of the university plus 16 other members, each of whom serves a six-year term. Ten of those 16 are appointed by the board itself. The other 6 are called alumni fellows; every spring, one alumni fellow steps down and the alumni elect another. Any Yale degree holder can cast a vote, except Yale College graduates who've had their degree for under five years.

Most years, alumni decide between two or more candidates selected by the Alumni Fellow Nominating Committee. This 15-person committee, assembled by the volunteer chair of the Yale Alumni Association's Board of Governors, is made up of alumni volunteers; some university officials also serve, per YAA's constitution. The committee studies dozens of suggestions from alumni before choosing its candidates. But there's another way to get on the ballot: by circulating a petition for endorsements. Petition candidates are added to the ballot if they collect signatures from at least 3 percent of eligible alumni. (That's 4,394 this year.) William Horowitz '29, Yale's first Jewish trustee, was the most recent petition candidate elected, in 1965.

The petition candidate who ran 19 years ago was W. David Lee '93MDiv, a New Haven minister who had the support of Yale's unions. His campaign was novel for its print and direct-mail advertising. The Alumni Fellow Nominating Committee chose one candidate to oppose Lee: Maya Lin '81, '86MArch, designer of the Vietnam Veterans Memorial. She won with 83 percent of the vote.

Journalist James Kirchick '06 and law professor Nicholas Rosenkranz '92, '99JD, mounted petition campaigns in 2018 and 2019, respectively, each backed by the William F. Buckley Jr. Program at Yale. Both fell short of the required number of signatures.

This year, two candidates launched petition campaigns. Each collected enough signatures to make the 2021 ballot. Victor Ashe '67, former mayor of Knoxville, Tennessee, and former US ambassador to Poland, says he wants to increase board transparency and reform the trustee election process. The Buckley Program has supported his campaign financially; Ashe says he is "happy to have their support" but has "not signed on to represent them" and adds, "I will be my own person."
Maggie Thomas '15MEM ran with the aid of Yale Forward, an independent student/alumni group that supports climate action such as fossil-fuel divestment, as well as board transparency and election reform. But after qualifying for the ballot, Thomas was appointed chief of staff for the Biden administration's new Office of Domestic Climate Policy, and White House ethics rules prohibit her serving on Yale's board. (Yale Forward is seeking a candidate to run in 2022. The deadline for filing a petition candidacy is March 15.)

Ashe and Thomas have used social media and print advertising in their campaigns. Yale's website discourages campaigning, noting the "long-standing practice that alumni fellow candidates stand for election solely based on the information included in the official election materials." Martha Schall, an associate vice president in the Office of Institutional Affairs, says that contrary to some interpretations, this isn't a rule against campaigning. "Were a candidate to choose to campaign, there would be no way to stop the person," says Schall. "The purpose of the practice is to try to keep the process equitable."

Alumni will receive their ballots by US mail or email (depending on their previously expressed preference) by the end of April. The ballot will include biographical information about Ashe and the nominating committee's selected candidate or candidates, whose names aren't revealed until the ballots go out. Voting will close on May 23. For more information—including how to get a ballot if you haven't received one by the end of April—go to alumni-fellow-election.yale.edu.