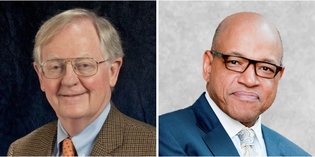 Yale University
Victor Ashe '67 (left) and David A. Thomas '78, '86PhD, are candidates for a seat on Yale's Board of Trustees. View full image
Yale alumni have two candidates to choose between in the spring election for a six-year term on Yale's Board of Trustees. Voting will close on May 23.

Victor Ashe '67, former mayor of Knoxville, Tennessee, and former United States ambassador to Poland, earned his JD from the University of Tennessee College of Law. Shortly after graduation from Yale, Ashe was elected to the Tennessee House of Representatives; after graduating from law school, he became a Tennessee state senator. A recipient of the Yale Alumni Association's Distinguished Service Award for the Class of 1967, Ashe has been on the boards of organizations including AmeriCorps, Fannie Mae, and the National League of Cities.

David A. Thomas '78, '86PhD, president of Morehouse College in Atlanta, completed his master's in organizational psychology at Columbia University, then returned to Yale for his PhD in organizational behavior. Before becoming president of Morehouse, Thomas was on the business school faculties at Penn and Harvard, and later became dean and chair of Georgetown's McDonough School of Business. He has served on numerous boards, including the Yale SOM Board of Advisers, and he cofounded the Harvard Divinity School's Urban Ministries Executive Program and the Black Corporate Directors Conference.

Thomas was selected as a candidate by the Yale Alumni Association's Alumni Fellow Nominating Committee. Ashe is a petition candidate—meaning that in order to appear on the ballot, he collected signatures from at least three percent of alumni eligible to vote. Ashe is the first petition candidate on the ballot since 2002.
All Yale graduates are eligible to vote except Yale College alumni who are less than five years out. Ballots were sent in mid-April, along with additional biographical information on the two candidates. Alumni who haven't yet received their ballots should write to yalehelp@electionservicescorp.com.