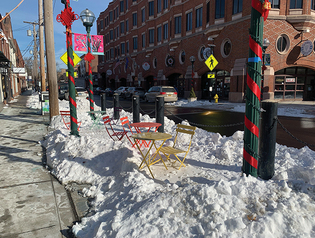 Mark Alden Branch '86
Students were asked to avoid eating at off-campus restaurants—including outdoor dining—until February 7. View full image
As Yale nears the beginning of the third year of the COVID-19 pandemic, the latest wave of cases seemed to be waning in early February. Although the university has avoided disaster, the new semester brought with it a new frustration with campus COVID restrictions.

Near the end of the fall semester, Yale had been at a yellow alert level: masking, limits on visitors to campus, and some restrictions on in-person gatherings. But on December 19, a spike of cases and the emerging omicron variant caused university officials to move to the more restrictive orange level. With just three days of finals remaining in Yale College, exams were moved online, and dining halls switched to grab-and-go. The start of the spring semester was pushed back from January 18 to January 25. (To make up the time, spring break was shortened from two weeks to one week.) All classes were held remotely through February 4.

Yale's rules caught the attention of national media, in particular the instruction to Yale College students to "avoid local businesses, restaurants, and bars, including outdoor drinking or dining" during the initial quarantine period through February 7. Some thought the restriction on outdoor dining especially egregious. (Actually, the question is pretty much moot in New Haven in midwinter.)

Questions also came from inside Yale. In Yale Daily News articles, students discussed the strains of returning to remote learning, the loneliness of quarantine, and restrictions on gatherings. First-year Lawrence Tang '25 told the News that Zoom classes felt like "a very expensive podcast." In an op-ed, sophomore Aaron Schorr '24 protested "an abrupt backwards lurch reminiscent of the uncertain early days of the pandemic" and called for an end to restrictions that are "smothering all of campus life."

Fortunately, things soon took a turn for the better. Dining halls were reopened for in-person dining on January 31. Just before our press date, vice provost and COVID-19 coordinator Stephanie Spangler announced a return to the yellow alert level starting on February 7. This means that most events and gatherings can again take place without prior approval (although still with masking, vaccination, and capacity limits); visitors can come to campus with a university host; and fans from outside Yale can attend athletic events.

With cases in Connecticut on their way back to pre-omicron levels, prospects for the spring looked promising. But after two roller-coaster years, we know how much can happen between our deadline and your reading the magazine—so stay tuned.