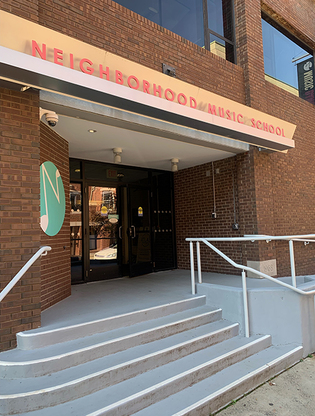 Mark Alden Branch '86
It's called Neighborhood Music School, but it's become a place for all kinds of arts. View full image
Imagine, just for a moment, that all of Yale had disappeared—the museums, the labs, the libraries, the towers. What would be left of New Haven's cultural institutions?

Much more than many of us think.

There's NXTHVN, an incubator for artists and their work, brainchild of the painter Titus Kaphar '06MFA. There's the jazz scene, the hip hop scene, the Arts and Ideas Festival. There's the New Haven Museum, whose antiques go back to the 1600s.
There's the New Haven Symphony Orchestra, which has accompanied stars from Jessye Norman to Rostropovich. There's the online New Haven Independent. There's the Creative Arts Workshop, the Pardee Rose Gardens, Lighthouse Point, the Green, and of course the famous pizzerias. And many others.

My own favorite place in New Haven is Neighborhood Music School, founded in 1911 to help the incoming immigrants of those years find a footing. (Full disclosure: I'm currently on the NMS board.) When I brought in my two little sons long ago on an Open House day, to show them how wonderful it was to hear and play music, they balked. They wouldn't even look at any of those unfamiliar grownups and their unfamiliar instruments. I tried to cajole them but failed. Finally, in desperation, I said: "Then I'll take music lessons." Immediately, the boys decided that violins and pianos were fascinating things, and two NMS teachers gently and expertly made it fun for two very young people to try something completely new.

Neighborhood provides individual singing lessons as well as singing groups, instrumental lessons as well as instrumental groups, and dance lessons of many kinds, from ballet to extraordinary gymnastic moves I'd be afraid to try. There's a small preschool centered on the arts, and a small middle school in which the children, guided by their teachers, learn to teach themselves creativity and cooperation. And that's not the half of it: think steel pans, theater, rap, music theory, jazz, acting, film, and more. The students' ages run from three to over ninety, and they come from more than 80 cities and towns. NMS provides support for over 500 of its 2,500-some students. Students in grades six to twelve whose families make $75,000 or less pay nothing.

There have been many ups and downs in Neighborhood's life; I've seen times when enrollment dropped and teachers' positions were fragile. Under its current executive director, Noah Bloom, the school has grown into excellent health. Moreover, NMS is one of four nonprofits—including the New Haven Symphony, New Haven Museum, and Clifford Beers Community Care Center—that each recently received a bequest from James D. English, whose family has lived in the area for generations. Noah had the gift to NMS placed in an endowment, so that it can produce a regular boost of income in Neighborhood's future.

Noah has more plans for that future. When he and the other three nonprofit representatives spoke at the meeting honoring James English, he noted that "New Haven still suffers from a legacy of inequity. Today, the income level of Black and Latinx families is just half that of white households." He wants Neighborhood to do its part to help, by launching "a new Institute for Creative Youth Development, focused on centering student voices." The institute would aid young people in developing their leadership skills. He also hopes to create "an after-school arts academy in partnership with New Haven Public Schools."

This will be a very big job. But the teachers at Neighborhood know what they're doing. Noah told me about a young girl, a third grader, who came in regularly but hardly talked. The teachers didn't press her; they saw that although she was silent, she felt comfortable at NMS. And then, to their surprise, at the year-end recital she belted out a song so well and so forcefully that it brought the teachers to tears.
Later on, they learned that her earlier silence had come because her father had died. But they had done the right thing. NMS teachers are extraordinary. Another full disclosure: I've been taking violin lessons there for years.