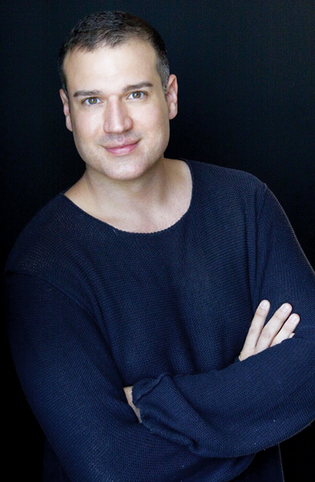 Peter Konerko
Is it easier to be an understudy--or to play the starring role? Baritone Michael Chioldi '94MusM can tell you, and it's not what you'd expect. View full image
Last January, baritone Michael Chioldi '94MusM made operatic headlines when, on short notice, he stepped into the title role of Rigoletto at the Metropolitan
Opera after the original star came down with COVID. His performance was so remarkable that the Met brought him back for another production of Rigoletto in December—no longer as an understudy, but as a member of the main cast.
It's a triumphant next step in a career that has already spanned continents, not to mention repertoire ranging from centuries past to the present day. Three decades into a professional career, Chioldi's star continues to rise.

Brin Solomon: How do you prepare to be an understudy for a role like Rigoletto at a place like the Met?

Michael Chioldi: I didn't have any time on the set—which had a big turntable—at all. That's hard to prepare for. You just have to be ready. If you're going to be a cover, you have to know the role better than the person who's singing it, because oftentimes you get no rehearsal.

You certainly won't get any orchestra time, or any time with the colleagues you're going to be performing with, so you have to really pay attention all the time. As someone who's done both, I definitely prefer just being hired!

BS: Early in your career, you did a lot of contemporary opera, but recently your focus has been more on the standard repertoire, like Verdi and Wagner. What are some of the differences between the old and new works?

MC: I've been really fortunate to work with some great composers who vere very collaborative. That's the part I miss most of all, now that I'm not doing as much new music—that collaboration, creating something new with a composer. It's really unique.

In the traditional repertoire, everyone has these really strong ideas about how it "should" be done, and if you do something in a different way, the argument is hard to make. But normally, new music goes with new singers; it's more for opportunity and exposure. So I pivoted, because I felt like new music was a hard route to sustain an opera career, financially.

And it can be difficult to transition, vocally, between the new-music world and the traditional-repertoire world. New music tends to be dissonant, with a lot of leaps. I'm not trying to throw anyone under the bus—some composers do it quite well!—but it can be difficult to transition between both worlds.

BS: Did your time at the Yale School of Music help make that transition?

MC: It did, yeah. The program there is really amazing; I enjoyed my time there so much. It was a great place to get a solid, well-rounded, and challenging musical education. I had theory classes that were life-changing, but there was also chamber music and sacred music and new music—the composition program was very strong. Just a lot of opportunities for young singers to train in a whole range of styles.

BS: Beyond the money, what draws you to roles like Rigoletto?

MC: It's music that really speaks to my soul. But what draws me to a role initially is the character. Verdi writes so well for the baritone voice, and oftentimes I think he writes himself into the role: there are so many father-daughter duets that are complex and simple at the same time. They have beautiful tunes, and the character and music come together so well.

Verdi not only writes so well for the voice, but also brings text and music together in a transformative way. And that's what great writing is all about. It's a duality that Verdi has throughout his work—this tender, exposed lyricism next to the vendetta, the visceral moments of vengeance. For me, that's the great draw of these roles.

BS: What's one upcoming production that you're particularly excited about?

MC: There's an immersive recording of The Andrée Expedition by Dominick Argento, which is a story about this doomed expedition to the north pole. I'm still consistently trying to push the bounds of opera and make it as accessible to people as possible. I always want to debunk the myth of opera being an elitist art form. There's this perception, sometimes, that it's unattainable, but I don't think it is. Once you go, people really like it.