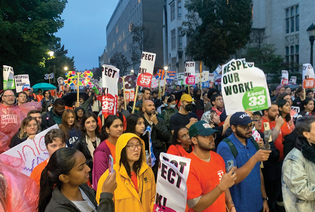 Thomas Breen/New Haven Independent
Supporters of a union for graduate teaching assistants stage a rally on Prospect Street. The outcome of the unionization vote will be known when ballots are counted in January. View full image
UPDATE, January 10: In a lopsided 1,860–179 tally, graduate teaching assistants have voted to form a union, the NLRB announced yesterday. Read Local 33's statement here and President Salovey's here.
--------------
The battle over the unionization of graduate teaching assistants at Yale has been marked by strikes, legal wrangling, and heated words from students and administrators since 1990. But last fall, in an atmosphere of surprising quiet, grad students cast their votes in an election supervised by the National Labor Relations Board (NLRB). It may win them the prize the organizers have long sought, joining union-represented students at Brown, Harvard, Columbia, and other private and public universities.

Local 33 is the graduate student organization seeking to become a certified union as part of UNITE-HERE, the union that represents Yale clerical, technical, service, and maintenance workers. In the fall, Local 33 collected authorization cards from more than 3,000 eligible students, enough to trigger an election under NLRB rules, and the university agreed to a secret-ballot election.

Those eligible to vote include graduate students (and some professional students) who act as teaching fellows, research assistants, writing fellows, project assistants, or discussion section leaders, if they were employed in such roles this academic year or last year. Students voted in person at four locations on campus on November 30 and December 1. Because the deadline for mail-in ballots is January 6, the results could not be tallied until January 9.

The Yale administration has historically opposed unionization among graduate students, arguing that they are primarily students rather than employees. In 2016, Yale joined an amicus brief with eight other universities, urging the NLRB not to recognize the right of graduate students to organize a union at Columbia. In a letter to the Yale community that year, President Peter Salovey '86PhD expressed his concern that the relationships between graduate students and their professors "would become less productive and rewarding under a formal collective bargaining regime."

Local 33 publicly called for Yale to adopt a neutral stance on the union this time. The university declined; provost Scott Strobel said in a statement that "as an institution dedicated to tolerance and open dialogue, it would be inappropriate for Yale to make such a commitment," and added that it could be seen as prohibiting faculty from expressing opinions on a union.

But the administration's response to the election campaign has been more restrained than in previous attempts. Salovey has made no public statements, and Strobel has merely urged voters to "carefully consider the advantages and disadvantages of unionizing" and vote their consciences. Local 33 has complained about an FAQ put out by the Graduate School that the union said was misleading, but neither side has been particularly combative in public. And unlike in previous campaigns, no vocal anti-unionization group has emerged among graduate students themselves.

Local 33's case for unionization is that collective bargaining will help them obtain, their website says, "pay that keeps up with the rising cost of living; better access to mental health, dental, and specialist health care; protections for international student workers; and real recourse in situations of abuse, discrimination, or harassment."

The minimum annual stipend for a PhD student at Yale this year is $38,300. At Harvard, where graduate student workers got their union recognized in 2018, the contract negotiated in 2021 included a 15 percent increase in the minimum stipend over four years, to $45,180 in 2024–25.

The election comes after years of ups and downs, in great part due to changes in the political winds. The NLRB first recognized graduate teachers' unions at private universities in 2000, but Local 33's predecessor, GESO, couldn't secure a union before 2004—when the NLRB reversed the earlier ruling. After the board backtracked again and gave unions the green light in 2016, Local 33 adopted a "microunit" strategy, winning elections in several academic departments in 2017.
But Local 33 later withdrew its petition to the NLRB (a petition Yale had contested) in the face of likely opposition by a newly Republican NLRB. That board ruled in 2019 that graduate teaching assistants are not employees. Then, in 2021, the board changed its mind yet again—setting the stage for last fall's election.