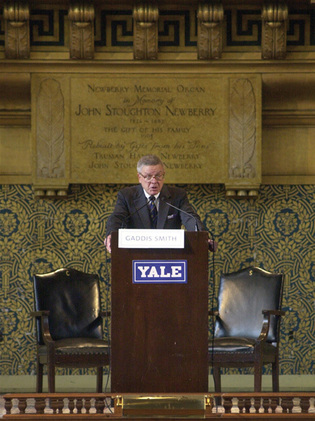 Michael Marsland
Gaddis Smith lectured on Yale's history in Woolsey Hall during the university's tercentennial in 2001. View full image
The history professor George Wilson Pierson '26, '33PhD, wrote the history of Yale from 1871 to 1937 in two volumes. Perhaps no one was more qualified to update that history than Gaddis Smith '54, '61PhD, who both observed and helped shape the university for seventy years. Smith indeed wrote the book on Yale in the twentieth century, but he didn't live to see its publication. He died on December 2 of progressive supranuclear palsy, a degenerative brain disorder, at his home in New Haven. He was 89.

Smith, who succeeded Pierson as the Larned Professor of History, was well respected as a historian of American foreign policy, particularly in the twentieth century. His books included a biography of Dean Acheson and an account of diplomacy in the Carter Administration.

But he was better known to generations at Yale as a teacher. He taught thousands of Yale students and influenced future leaders in academia, government, and international relations. Although Smith was reserved in person, "in the large lecture hall he came alive, transformed into a dynamic, spellbinding orator," Harvard professor Frederik Logevall '92PhD, one of his former graduate students, told YaleNews.

The son and grandson of Yale alumni, Smith grew up in New Jersey. He entered Yale College in 1950 and married Barclay Manierre the summer after his freshman year. (He didn't live in a residential college at Yale until he served as master of Pierson College from 1972 to 1981.) But he did partake of student life, serving as chair of the Yale Daily News and being selected for the Elizabethan Club and Berzelius.

After graduating, Smith worked for a year in Yale's development office. "A large part of my assignment was to prepare reports on what was happening in Yale College and to draft responses to alumni who thought Yale was going to hell," he later wrote. Smith then enrolled in the Graduate School, earned his doctorate in 1961, and joined the faculty. Aside from three years teaching at Duke while working on his doctorate, he was at Yale full-time for half a century. He retired in 2000 but continued doing some teaching.

Being inclined to think internationally, Smith encouraged Yale to do the same. He led the Yale Center for International and Area Studies and advocated the recruitment of international students and wider study-abroad opportunities. Perhaps unsurprisingly, his long-awaited volume of Yale history, which will be published this spring by Yale University Press, has an international bent: it is titled Yale and the External World: The Shaping of the University in the Twentieth Century.

In his fiftieth-reunion book entry in 2004, Smith reflected on a life spent in New Haven: "We have been physically in one place, but intellectually and socially travelling through a constantly changing Yale and through a succession of different experiences . . . best of all, the procession of students and hundreds of faculty and friends."

Barclay Smith died in 2019, and their son Tarrant in 2020. Smith is survived by his son Edgar and two grandchildren. A memorial service will be held this spring.