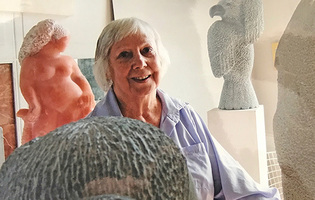 Isabel Case Borgatta was a noted sculptor of stone figures whose career spanned 75 years. She passed away April 10, 2017, at home at the Westbeth Artists Community, where she lived for 35 years. At 95, she was Westbeth's oldest resident and was well loved there.
She was born Isabel Marie Case on November 21, 1921, to H. C. M. Case, noted agricultural economist, and Naomi Newburn Case. She spent her early years in Urbana, Illinois. At age 11, Isabel began a lifelong love affair with stone while acting as a gofer in the US treasury's geology department. At 13, Isabel made her sculptural debut, winning first place in a national Ivory Soap carving contest, and never looked back. She attended Smith College and later received a BFA as one of Yale's first female students of sculpture. She honed her hand-carving skills in Jose de Creeft's studio.
Isabel married painter Robert Borgatta and had three children, balancing the roles of wife, mother, and working artist. To address the gender imbalance she experienced in the art world, she became a founding member of the Women in the Arts organization. She was at the forefront of a movement to promote opportunities for women artists.
She experienced early critical acclaim, featured in a showcase of women artists at the Whitney, a group show at the Metropolitan, and she won the D'Orsay prize in 1952. Isabel was able to skillfully transition to other media, including wood, metal, fabric, and paper, which she experimented with while raising young children, though she returned to stone as soon as she had the time. Isabel's work is represented in many public and private collections; she presented a series of solo shows nationally, and she received several Yaddo and McDowell fellowships as well as numerous other awards and honors.
An avid traveler, Isabel was influenced by sculptures and carvings she saw in Greece and the Yucatan Peninsula. After her divorce she began taking annual trips to Greece to select her stones for the upcoming year. She felt a strong sense of connection to each stone, using its lines, colors, and even flaws to inform her work. She said, "I particularly appreciate the finality of stone, the fact the that something you take off cannot be put back. In other words, you can't raise the bridge. You have to keep lowering the river until you get it right." She often combined human and animal characters, inspired by Greek mythology. Isabel was recognized in Greece as well, winning several sculpture grants from the Greek government to carve in Delphi and Crete. In 1995 she was the first woman to earn the Alex J. Ettl grant for Lifetime Achievement in American Sculpture. She continued to carve well into her 90s despite heart attacks, strokes, battles with cancer, and a fall into an uncovered NYC manhole. After a lifetime of hand-carving, she reluctantly took up power tools at age 90, and even recently could be found in her Westbeth Studio overlooking the Hudson River with sandpaper in hand.
She is survived by three daughters: Francesca, Paola, and Mia Borgatta; 3three grandchildren: Olivia and Jasper Werby and Jaya Borgatta; and numerous loving relatives and friends. A memorial is upcoming at the Century Association clubhouse in Manhattan, where she has been an avid member of the drawing club for decades. In lieu of flowers, memorial donations can be made to the Parkinson's Disease Foundation, www.pdf.org.

—Submitted by the family.