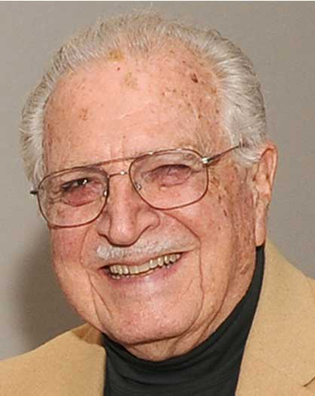 The Reverend Robert Clayton Lamar passed away peacefully on January 9, 2019, in Albany, New York. He was 96 years old, and had lived a life of faith, gratitude, and grace.
He was born in 1922 in Salt Lake City, Utah, to Avis and Ralph Lamar, and grew up in Colorado and Kansas, the eldest of five children. He was the valedictorian of the class of '39 at Topeka High School. He left Topeka to attend Yale University, where he majored in English, graduating in 1943; in 1946 he graduated from Yale Divinity School.
While at Yale, Bob played the French horn in the orchestra and marching band and sang with the Elitonians, a quartet consisting of three other classmates: Bill Carter, Lynn McCabe, and Dick Nolte (with an occasional assist by Kay Bascom, of New Haven).
He began his ministry in Milford, Connecticut, where he and his wife, Ethel, lived. In 1950 they moved to Stamford, Connecticut, where he served as associate pastor at the First Presbyterian Church, while he and Ethel raised their family of four children. He retired from the First Presbyterian Church in Albany, New York, after 34 years as its senior pastor.
Bob was also instrumental in developing and strengthening ties with the interfaith community in the Capital Region and was active in local and national civil rights initiatives. In 1974 he was elected moderator of the United Presbyterian Church.
Bob was married to Marion Tietz from 1986 until her death in 2010.
His four children, two stepchildren, nine grandchildren, and two great-grandchildren survive, as do a sister-in-law, Marnie Lamar; a sister, Pat Geoffroy; and a brother, Stan (YC '55); and their families. He was predeceased by brothers Frank and Herb (YC '50).
—Submitted by the family.