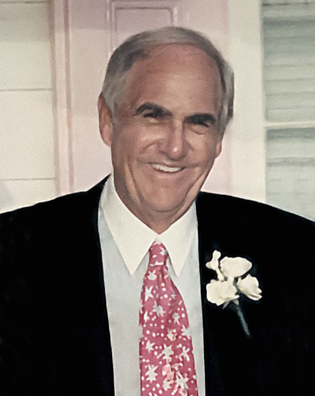 (By Bruce's family, with afterwords by President Peter Salovey, 23rd president of Yale University, and Lucy Costigan, Porter family historian)
Bruce Porter Arneill passed away on Thursday, October 31, 2019. In true Bruce form, his final words in this life were "We had a great day today, didn't we, buddy? Goodnight."—spoken to a good friend before going to bed, where he drifted off peacefully, on to his next adventure. Appropriately, the sky was red that night; an indication that Bruce indeed chose his own departure for the next journey.
Adventurer. Outdoorsman. Architect. Sailor. Pilot. Skier. Prankster. Life of the party. Bruce always lived a full life. Bruce leaves behind his wife and adventure partner, Virginia J. Bush (Dinny) of Old Saybrook, Connecticut. In Dinny, Bruce met his match: for her, he had a sparkle in his eye that was visible to all, up through his final day. To be in the presence of Bruce and Dinny together was to understand the definition of symbiosis. Neither could ever stay in one place for too long, and both needed to be outdoors or out seeing new places together, as much as possible. When not exploring somewhere new, they were likely sailing around New England or around Harbour Island, Bahamas. You'd also find them snorkeling on neighboring islands, catching tropical fish and other critters with hand-nets to fill the tank and look at over cocktails with friends and family, who were always around and passing through (and the fish were always released!). In the fall, they were often enjoying Vermont's foliage, and winters they were likely skiing in Klosters, both alpine and Nordic, until Bruce was 80.
Bruce also leaves behind five children, who are adjusting to life without their own lifelong adventure partner, but who will carry on that spirit forever, as well as seven grandchildren, whom he absolutely adored.
Bruce was born in New York City in May 1934, where his father was finishing his surgical residency at Columbia Presbyterian Hospital. With deep New England roots, Bruce grew up in Denver, Colorado, where his father had his surgical practice, spending vacations at the family's home on Jupiter Island, Florida, and often visiting his grandparents and many other relatives in Stamford and Darien, Connecticut. He followed in his father's footsteps and attended the Hotchkiss School, finishing in 1953.
Bruce went on to Yale University, very proudly following in the footsteps of his father, James Rae Arneill Jr. '26, '29MD; his mother, Joyce Porter Arneill '29MN; his grandfather, Louis Hopkins Porter (1896); his great-grandfather, Timothy Hopkins Porter Jr. (1848); and many uncles, great uncles, and cousins, including: Noah Porter (1831, 1834MA), vocal opponent of slavery and president of Yale College from 1871 to 1886; world-renowned archaeologist, art historian, and 'real-life Indiana Jones' Arthur Kingsley Porter (1904); Lucy Bryant Wallace Porter (1895–96 Mus); renowned yacht designer, 100-year-transatlantic-record-holding sailor, and legendary Titanic survivor, Frederick Maxfield Hoyt (1895); Blachley Hoyt Porter (1897, d. 1895); David Gustavus Porter (1857); Thomas W. Porter (1887); Nathan T. Porter (1890); and nine-term Connecticut congressman and namesake of the Merritt parkway, Schuyler Merritt (1873).
Bruce entered Yale with the intention of following his father and paternal grandfather's careers in medicine, while still ensuring he had more than enough time for a very healthy social life. Bruce took a perfunctory course in architecture during his second semester of freshman year, and therein immediately found his life's passion. He became serious and focused like a laser, even moving into his own apartment off campus to avoid distractions. His roommates thought he was "surely joking." It paid off. After earning his bachelor's degree in 1957, Bruce then earned his bachelor's degree in architecture in 1959, and his master's degree in architecture in 1961.
As a student with a set of young, fresh eyes, and a deep family background in medicine, Bruce was an early and outspoken voice in the architectural community arguing that the design of hospitals needed to change dramatically to reflect radical advances in technology. He had the vision and foresight to point out that these advancements would be constant and increasingly radical over the following decades. His designs focused on incorporating innovation and adaptability in the treatment environment, influencing the future of health-care design. At 27 years old, Bruce was awarded Yale's prestigious Magnus T. Hopper fellowship in hospital design in 1961.
In the early 1970s, Bruce helped write the first federal guidelines for health maintenance organization (HMO) facilities, and designed the first community-based HMO in the United States. Bruce cofounded Stecker LaBau Arneill McManus, which later became the S/L/A/M Collaborative ("SLAM") after growing organically and acquiring numerous firms over the years. SLAM specializes in hospitals and health-care facilities (recently Johns Hopkins Medicine, UMass Medical Center), K12 public and private schools (New Canaan Saxe Middle School, Avon Old Farms School, Ox Ridge School, Darien), colleges and universities (Providence College campus transformation, Duke University School of Medicine), sports facilities (Notre Dame Stadium), as well as corporate and special institutional projects (Pfizer, Kaiser Permanente, New Canaan YMCA). Bruce served as chairman of SLAM until his retirement. Bruce's views on hospital and health-care design were widely sought after: throughout his career, he wrote and coauthored several books and journals, along with dozens of articles on design, health care, and management. He lectured extensively on management and process in health-related architecture as an adjunct professor at the Yale University School of Medicine, Yale School of Organization and Management, Harvard University Graduate School of Design, and several other institutions. Bruce designed or oversaw the design of scores of hospitals, HMOs, and medical facilities throughout the US and contributed to the design of countless educational institutions. SLAM grew from four architects in 1980 to approximately 200 architects today, and has completed billions of dollars of projects in its 40-year history. In 2014, SLAM was chosen from a vast field of the world's largest architecture firms competing for the opportunity to redesign and expand (by 750,000 square feet) the University of Notre Dame's cherished football stadium ("Campus Crossroads"), a project that SLAM completed in 2017.
Part Rocky Mountains, part old-school 'New England tough,' Bruce just . . . knew how to handle things. He knew every knot, built structures with his bare hands, and plowed his own driveway most of his life. He skied in the coldest days for eight-plus hours without a thought. He always knew the wind forecast and the weather for the next ten days. He knew when high tide was, wherever he was. He sought excitement and adventure, always: On July 16, 1969, many Americans were waiting anxiously at their televisions to watch the Apollo 11 launch. Not 35-year-old Bruce, already a licensed recreational pilot, who went to Florida and rented a plane to watch the launch from the air with his family at the closest perimeter allowed by NASA. Whether at 40 or 80, if you bumped into Bruce on a weekend, he likely had some workshop- or project-related cut or bruise that he hadn't yet noticed himself. At 81, when his attention and vision were both waning, he cut off the full end of his index finger on a band saw. He, of course, finished the cut before going to the hospital.
Bruce was gifted at finding—and amplifying—the humor in just about any circumstance. Whether he was running wheelchair races in the hospital, donning a goofy wig at an inappropriate moment, or stealing Halloween candy and 'running' away in literally his final hours, he was courageously funny and helped remind everyone that even in the most serious moments, laughter is always good medicine.
Bruce's children can all share stories about their special sailing adventures with dad. Some were fun, some were terrifying. In addition to strengthening their characters by literally sailing rough seas together, they also always learned some choice vocabulary words. He definitely made them all 'New England tough,' that's for sure.
Bruce will be sorely missed, but he's around. You won't find him in a cemetery (he'd get too antsy and bug neighbors to go out to dinner…), so don't look for him there. You can find him in the Sunday afternoon breeze passing over Vineyard Sound, in the steady waves hitting Pink Sands Beach, in fresh snow on a Rocky Mountain morning, or in the red haze of a Long Island Sound sunset. He'll be there, no question.
From President Peter Salovey, 23rd president of Yale University:
"Yale mourns the loss of Bruce Porter Arneill '57, '59BArch, '61MArch. Bruce exemplified Yale's mission: he lived a life of learning, discovery, and service to others. Proud of his family's history at Yale and his ancestors' many contributions to the university—especially those of Noah Porter (1831, '34MA), the 11th president of Yale—Bruce had an independent and adventurous spirit. He eagerly embraced the opportunities of his Yale education, forged his own professional path, and went on to make innovative and lasting contributions to his field. Most of all, friends and family will remember Bruce's work ethic, his resilience, and his joy in life's many pursuits."
From Lucy Costigan, Porter and Hoyt family historian:
"Having spent more than ten years researching the Porter and Hoyt families for my biography on Arthur Kingsley Porter, and for family research projects, I was deeply saddened to learn that Bruce had passed. I was immediately struck with the realization that the family had lost an important 'bridge,' from today's modern world to the significant roles that many of his Gatsby-like ancestors had played in a bygone era. Bruce came from a centuries-old line of well-known adventurers, academics, anti-slavery and suffrage activists, sailors, politicians, and American patriots in the absolute truest sense of that term. Many of these relatives were graduates of Yale. The common trait that ties together each family member I've studied is a rare depth of character; all of them are a unique breed of adventurous intellectual, each with a great deal of compassion and honor. Bruce was extremely proud of his heritage, but never boastful. At the time of his passing, I had been working on a summary for Bruce, and so I felt that Bruce's death, and this tribute, warrant recognition of the family's accomplishments and contributions to their communities and to this country.
"There are two relatives in particular whose lives parallel Bruce's quite spectacularly:
"Arthur Kingsley Porter was truly a real-life Indiana Jones. Kingsley graduated from Yale in 1904, eight years after his brother Louis, Bruce's grandfather. Like Bruce, Kingsley entered Yale with family expectations that he would follow a specific path. In Kingsley's case, this meant following Louis into the practice of law. Yet during a trip to France, Kingsley visited Coutances Cathedral and had nothing short of a spiritual awakening, finding his passion for architecture around the same age as Bruce. Upon graduation from Yale, Kingsley enrolled at Columbia University's school of architecture. He went on to teach at Yale for several years, leaving in 1918 after being the only American invited by the country of France to evaluate the damage done to medieval monuments during the First World War. Kingsley then joined the faculty at Harvard University in 1921, and became the chair of art history in 1925. Even in this role, Kingsley spent half the year traveling the world on adventures with his wonderful wife and adventure partner, Lucy Bryant Wallace Porter, chronicling his findings and writing works on Romanesque and Lombard architecture that would become iconic and set the gold standard in this field, where they unquestionably remain today. Kingsley spent the other half of the year lecturing at Harvard and sharing his experiences with his incredibly engaged students. Kingsley got himself, and Harvard, into serious trouble with the country of Spain after buying (or, according to Spain, 'stealing') the sarcophagus lid belonging to the eleventh-century Count of Léon and giving it to Harvard's Fogg Art Museum. Kingsley disappeared in 1933 from the island of Inishbofin, off the Irish Coast, and close to Glenveagh Castle, his home in Co. Donegal. He disappeared the same day the sarcophagus was returned to Spain, fueling speculation of a medieval curse that may have been placed on him when taking the artifact to the United States, years earlier. Adventure to the end, like a true Porter.
"The second relative whose interests, passions, and lifestyle mirrored Bruce's was his great uncle, Frederick Maxfield Hoyt (Yale Sheffield Scientific School, 1895), brother of Bruce's great-grandfather Joseph Blachley Hoyt. Frederick was a Stamford, Connecticut, native with a passion for sailing, just as Bruce had his whole life. Frederick became a renowned yacht designer and naval architect, helping design the sailing yacht Atlantic. A skilled and sought-after sailor, Frederick was then lead navigator and tactician on the Atlantic during the Kaiser's Cup transatlantic race in 1905, which they won, thereby setting a transatlantic record that would stand for a century, only to be broken in 2005 by a modern race boat. The Atlantic was later purchased by Frederick's good friend and New York Yacht Club contemporary, Commodore Cornelius Vanderbilt III. Seven years after the Kaiser's Cup victory, Frederick and his wife were first-class passengers on the RMS Titanic during its tragic maiden voyage. During the evacuation, Frederick placed his wife, Jane, into a lifeboat, refusing to get in himself, despite her pleas. He then famously went up to the Titanic's bridge to see his good friend and the ship's captain, Edwin J. Smith. Frederick knew that Captain Smith would not leave the ship with passengers remaining on board, and would go down with her. 'But,' Frederick said to his friend, 'I feel like taking a drink with you before I take the plunge, don't you agree, captain?' The two shared a drink together, and then Frederick went on his way, with the captain insisting on staying behind. Frederick used his knowledge of current, wind, and navigational skills to choose his jumping location, and did so effectively: he later ended up directly in the path of the very last lifeboat to leave the ship (Collapsible D at 2:05 am, 10 minutes before submersion), and was pulled in. It so happened to be the boat that his wife was in. Most passengers who jumped from elsewhere on the ship at that later hour were not found. Bruce would have made the same calculation, the family says without question.
"Bruce was particularly proud of his mother, Joyce Porter Arneill (1908–1990), who is credited by many with getting American women involved in politics in the 1930s and 1940s. At 30 years old, she cofounded the National Federation of Republican Women, and served as its first president, developing it from a small group to over 500,000 women members. At 31 years old, Joyce was an RNC delegate for the 1940 presidential election. Joyce was an early board member of Planned Parenthood as well. Bruce was also proud of his mother's status as a champion golfer. Joyce and James won the New York State Husband-Wife Golf Championship on their honeymoon in 1929. Joyce then set a record at the Denver Country Club, with an 80 from the men's tees, where she insisted on playing. She was the first Colorado Women's Open state champion, the first women's club champion on record at Wee Burn in Darien in 1927, and her name is found in many places across the winner's boards at the Jupiter Island Club in Hobe Sound, Florida, alongside Bruce's father, James Rae Arneill, Jr. Bruce's dad, Jim, was a successful 35-year-old Denver surgeon who closed his practice when the Japanese bombed Pearl Harbor (when Bruce was seven years old), and enlisted in the US Army. He became chief of surgery at Thayer (Army) Hospital in Nashville, moving his family there. His father, Bruce's paternal grandfather Dr. James Rae Arneill Sr., resigned as chief of medicine at the University of Colorado in 1916 to join the Army and serve in the same capacity at Camp Kearney during World War I. A railroad buff, Jim Arneill also collected and restored antique trains and locomotives. He would entertain family, friends, and visiting dignitaries on his trains, traveling up into the mountains, enjoying cocktails and the Rocky Mountain scenery. When his collection grew, he formed a company, 'Singing Rails,' to rent his trains to movie studios, including Columbia Pictures, which used his train for the 1966 Academy Award–winning movie Cat Ballou. Jim's trains were used for months by Jane Fonda, Nat King Cole, and 1966 Best Actor winner Lee Marvin. He later donated most of his collection to help start Denver's Forney Transportation Museum, and secured from Union Pacific their 'Big Boy' locomotive as a donation to the museum as well.
"Bruce's third great-grandfather was Elijah Sargent (1739–1798), who commanded 271 men in Cambridge, reporting directly to General George Washington. Sargent fought at the Battle of Lexington and throughout the War of Independence. Phineas Porter (1739–1804) led Connecticut's 1st Continental Regiment, simply known as 'Captain Porter's Company,' and was another of Bruce's direct ancestors who fought in the Revolution against England. Col. Porter was part of a special battalion assembled in June of 1776 to reinforce General Washington's regiment in New York, where he spent significant time on the battle front, including the battle of Long Island on August 27, and Kip's Bay on Sunday September 15, when his battalion was called upon to help rescue George Washington's forces. On that day, while fighting to rescue Washington's troops, Porter was taken prisoner by the British forces. Phineas Porter was held at the infamous Sugar Mill (today 36 Liberty Street in Manhattan, adjacent to the Federal Reserve by Liberty and Nassau Streets), and subjected to the barbarism and torture (of searing irons) of Provost Marshal William Cunningham, the infamous British soldier who, seven days later, hanged Nathan Hale at that location, after taking the final words that Hale had penned to his family the night before, and ripping them to pieces in front of him. Phineas Porter was a man of impressive strength and build, which helped him narrowly escape starvation and live long enough to be released in a prisoner exchange. Most held at the Sugar Mill were not so lucky. Phineas's wife, Melicent Porter, is known as a 'Patron Saint of the American Revolution,' having cared for, and cooked for, thousands of patriots during the war of the revolution: 'To this house came on many occasion so many soldiers that they completely filled every room. So weary were the men that they fell upon the floors, exhausted for the want of sleep. All night Mrs. Porter and her attendants would cook for these men, stepping over them as they worked . . .' The house referred to here was built, by hand, by Dr. Daniel Porter, Bruce's fifth great-grandfather.
"Daniel's great-grandson and Bruce's second great-grandfather, Timothy Hopkins Porter Sr., was a leader in Connecticut's Whig party, but resigned his affiliations in the 1840s because of his opposition to slavery. He joined the so-called Liberal party as a matter of conscience, and then used his home as a center for anti-slavery lectures. Bruce's second great-grandfather, Joseph Blachley Hoyt II, was a Republican member of Congress in Connecticut and lead investor in the Stamford Steamboat Company. Hoyt conceived the plan of 'opening a permanent ship canal, so as to connect the sound to the railroad,' purchasing and controlling the land on either side of the new canal. Today, this is Stamford Harbor. Joseph's brother, Oliver Corse Hoyt (Bruce's second great-uncle) was Republican president of Connecticut's Senate, and a presidential elector who cast his vote for his good friend Ulysses S. Grant in 1872. Another great uncle of Bruce's was Schuyler Merritt (1853–1953), nine-term Republican member of the US House of Representatives from Connecticut's 4th district, and also an important mentor of Bruce's mother, Joyce Porter Arneill, who would be the RNC delegate in 1940.
"Above all, Bruce was the descendant of extremely courageous men and women who always fought for their beliefs, put humanity before party or popularity, contributed significantly to their fields, and always gave back to their respective communities. They exuded both passion and compassion. Like Bruce, they were tough, intellectual adventurers. In this great family, there was never any 'coasting'; there was always hard work, regardless of the station they were born into. Their driving conviction was that there was no greater honor than serving one's family, profession, community, and country. Bruce Porter Arneill lived these values throughout his life, and has passed them on tenfold to his proud children and grandchildren."
—Submitted by the family.