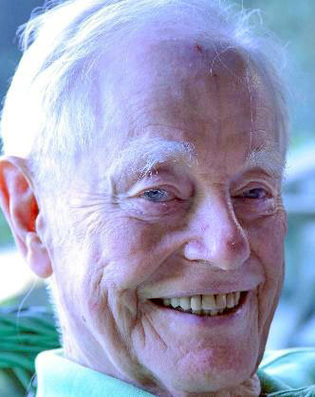 Charles R. Hickox Jr., longtime resident of Dallas, Texas, and North Hatley, Quebec, passed away on March 28, 2020, at the age of 98. Beloved and admired by family and friends alike, Charlie Hickox lived a full and honorable life as a member of the "Greatest Generation."
Growing up in Manhattan and Litchfield, Connecticut, he attended St. Paul's School before attending Yale. His college career, like that of many in his class, was interrupted by the war. In January of 1943 Charlie joined the Marine Corps as a second lieutenant and fought in some of the Pacific Theater's bloodiest battles. On Okinawa he was awarded the Navy Cross and Purple Heart for leading his 250-man company to their objective while wounded. After the war he returned to Davenport College to complete his degree and was a key figure in restarting crew competition at the university. He majored in French and was a member of Wolf's Head.
In 1947 he married Edith Porter of Lake Forest, Illinois, and was recruited by the CIA in Washington, DC. Charlie and his family moved to Dallas in 1957 where he worked for Chance Vought Aircraft (later LTV) and later for the Self Serv Fixture Company as its CEO.
As a longtime member of the Church of the Incarnation in Dallas, he served on the vestry, sang in the choir, and spearheaded many church building projects. Charlie was elected to the Order of St. John where he was instrumental in fundraising and getting physicians to volunteer at the St. John of Jerusalem Eye Hospital.
Charlie Hickox was a loyal alumnus who kept lifelong friendships with many of his classmates and consistently returned to New Haven for reunions.
He is survived by sons Charles R. Hickox III '69 (Cheryl), Gilbert P. Hickox (Susan), five grandchildren, and two step-grandchildren. He was predeceased by his wife, Edith, and their daughter, Kilby Whitney.
—Submitted by the family.