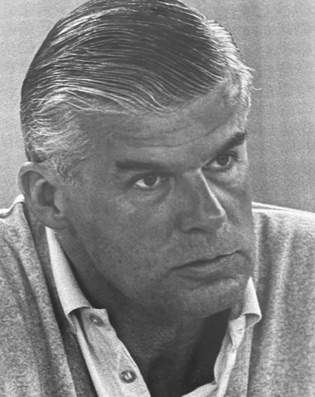 Hugh Knowlton Jr. died peacefully in Ponte Vedra Beach, Florida, on April 4, 2022, at the age of 99.
The oldest son of Hugh and Christine Stanley Knowlton, he graduated from Groton School, Yale University, and Harvard Law Sschool. He was a brilliant scholar and athlete, famous for throwing the winning touchdown pass in the 1942 Harvard/Yale game. After his sophomore year at Yale, he joined the Army Air Corps and as a pilot participated in 25 missions in the Pacific. Serving briefly as a lawyer in San Francisco after his graduation from Harvard Law, he returned east in 1951 to work in investment banking. He was made president and CEO of Smith Barney & Company in 1968. After retiring from Smith Barney, he joined Schieffelin & Company, an importer of wines and spirits. As chairman of its executive committee, he helped establish the firm as an important domestic wine producer and in 1981 negotiated the sale of Schieffelin to Moet-Hennessy. He then served for two years as the chairman of Moet-Hennessy US.
Knowlton served on several corporate boards including Leer, International Flavors and Fragrances, MacKay Shields, and Dean Witter Reynolds. He also served as trustee of the Groton and Berkshire schools, the Lenox Hill Hospital, and the Provident Loan Society.
He divided his time in his retirement years between South Egremont, Massachusetts, Southampton, New York, and Ponte Vedra, moving eventually to the last on a full-time basis. An accomplished tennis player and ardent golfer said to have "shot his age" until his 90s, he belonged to and played often at the Sawgrass Country Club, home of the Players Championship, and the National Golf Links of America. He was an active member of the University Club of New York. A devoted family man, he was loved and admired by siblings, nieces, nephews, and many offspring for his compassion, wisdom, wit, and generosity and for living the values he espoused—hard work, self-improvement, loyalty, and kindness. He was valued and admired for the wise counsel he provided to friends and family alike.
Predeceased by his sister Mary Sulzer, he is survived by two brothers, Stanley and Winthrop. His beloved wife, Betty Simpson Knowlton, and four stepchildren predeceased him. He leaves behind three children: Shelley, Hugh Gilbert (Susan), and Emily Hunsicker; and stepchildren Frank Black (Cheryl) and Sally Wacht and their families; eight grandchildren; and 12 great-grandchildren. He will be greatly missed by all of them.
—Submitted by the family.