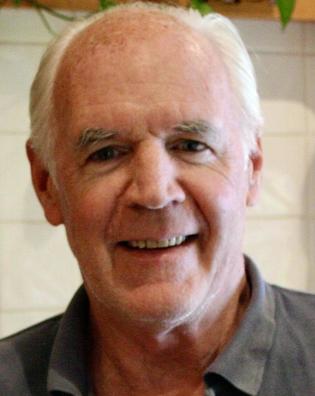 Peter Atkinson Daniel Giblin—pioneering executive recruiter, educator, generous mentor, and world citizen—was born in Brooklyn, New York on October 31, 1941, and passed peacefully on April 11, 2022, aged 80, surrounded by his loving family.
Como Peter no hay ninguno! (There's no one like Peter!) So declared the front-page illustration of España's Diario de Navarra in July 1972, upon 30-year-old Peter's 12th consecutive running of the bulls at the annual San Fermin festival in Pamplona, Spain. The catalytic inspiration for that iconic cartoon—depicting the speaking bust of his fellow American Ernest Hemingway, which sits outside the bullring—was Peter who, having been seriously gored by Azuceno (the second-largest bull to ever run the festival to date), then followed the bull into the ring and saved another man's life. Peter cheerfully told reporters from his hospital bed how much San Fermin, the music, the people, and the general conviviality truly were endeared to him. He also candidly acknowledged his uncharacteristic miscalculation that led to his significant injury. He had lost a sandal and doubled back to retrieve it, thinking that all six fighting bulls had passed him. He had miscounted in the chaos but what he didn't underestimate was the impending danger to his fellow runner whom the bull had trained his sights on once in the ring. To Peter, the father of toddlers, his very human response was involuntary. Although he usually shunned the limelight, this time his selfless act had occurred in front of 20,000 people and countless photographers. His understandably alarmed wife, Maritza, had other words to describe his behavior. Exiting on a heroic note, Peter never ran again!
This Pamplona episode reflects Peter's lifelong view of the world as a global classroom to seek out history, mystery, and to take on challenges. A keen observer, Peter spent his life "in search of excellence," a term he coined while a pioneer as an executive recruiter. This analytical search extended to his love of exploring cultures, often through food and wine as exemplified by his journey to becoming a Chevalier des Confrérie du Tastevin, a member of France's most notable wine society. This quest also allowed Peter to nourish his joy of spending time with family, friends, and colleagues from various parts of the world, involving somewhat focused conversations, song, and humor in a myriad of cultures in remarkable settings, from a tribal polo match in Afghanistan to safaris in Kenya. Peter took pleasure in listening far more than leading the discourse, always seeking to observe, learn, and grow. He described himself as a "perceptive listener."
After graduating from Yale, where he was known as a fair-minded, equanimous, and intelligent fellow, Peter ventured to Venezuela on a Fulbright scholarship. He and his eleven fellow scholars were quickly accused of being American spies by the student body at a politically volatile University of Caracas. Rather than flee, he felt a duty to the program that had sent him there, embodying Fulbright's mission to increase understanding between the US and participating host countries. Demonstrating his sense of fairness and belief in the legal process generally, he defended himself against the spy charges, impressing his inquisitors. It may have also helped that they had also heard of his time spent as a volunteer firefighter while studying in town. More importantly, he had caught the eye of the sharp and fashionable campus beauty queen Maritza Serrano who happened to be studying English in his class. "Sometimes you need a lucky break," he would smile and recall. They soon married and relocated to New York City. The lively couple had three children, with Maritza, the loyal family manager, rarely leaving his side when he wasn't abroad on business. Together they built a family across continents.
His family was his greatest achievement, he would also say, moving from New York where he attended Columbia Law School, then to Geneva to practice law, and finally on to London were he ultimately settled. His commitment to education and the opportunities it afforded was embodied in his leading the Yale Club of London for a period, as well as being a trustee of the American University in Cairo for 25 years, where he led the fundraising and development of the new campus. He also became a visiting professor at Cass Business School for 15 years and served as a director of the David Shepherd Wildlife Foundation, among many other roles in service to leadership, good governance, and protecting the environment.
Born of Harold Raymond Giblin and Dorothy Egan Giblin, Peter was raised in New Jersey and was educated at Phillips Exeter Academy. He then followed in his father's footsteps to Yale University, where he excelled in his studies and also in athletics, in both American football and then lacrosse. Peter would tell his children of the support and dedication that his father showed, along with his younger sister Gail, by attending his every game, where they would frequently drive seven hours in each direction. He showed the same dedication towards his own children in their extracurricular pursuits, often being the only supporting parent, standing in the rain and cheering on the team from the sidelines. He showed the same loving and unwavering support for all of his grandchildren, of whom he was immensely proud.
Even in his final days, the ever-optimistic Peter showed courageous tenacity, comforting humor, and was always forward-looking, displaying a tenacious zeal for what was next on the menu. He knew this planet was a way station not to be taken for granted, nor were its citizens and cultures that he appreciated so dearly.
The world was gifted a fair-minded, generous, and warm gentleman seeding conviviality and respect in many across the globe. His poignant loss is a global one. He will be sorely missed by his loving wife Maritza; his adoring children Peter Jr., Samanta, and Kevin, and his doting grandchildren Georgina, Oliver, Jasmine, and Maya; his warm circle of family, friends, and colleagues; and the legions he mentored, many of whom he shared a glass of decent wine with.
Salud, Dad!
—Submitted by the family.