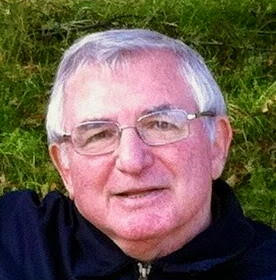 William A. Slone, 80, of Cheshire, Connecticut, passed away peacefully at home on Friday, January 20, 2023, after a long illness. "Bill" is survived by his loving wife of 55 years, Barbara (Schuchman) Slone; his children, Ericka Anderson and her husband, Eric Anderson; Amanda Slone; and Gregory Slone; his grandchildren, Ruby Meade, Lucy Meade, Goldie Anderson, and Kyly, Finn, Azra, and Oren Milton. He is also survived by his sister, Linda (Slone) Schissler, and her husband, Henry Schissler; his brother, Richard Slone, and his wife, Eugenia (Foster) Slone; his nieces and nephews, Michael Aronson and his wife, Pamela (Stearns) Aronson; Jennifer Aronson; Erin Slone-Gomez and her partner, Ethan Schwartz; Eric Slone and his wife, Sandy (Huang) Slone; and Christopher Savulis.
The son of Marian "Babbee" (Lerner) Slone and Saul Harris Slone, Bill was raised in Carbondale, Illinois, and New Milford, Connecticut, graduating from Canterbury School and Yale University, and serving his country with honor and pride in the US Army. Stateside, Bill had a 46-year career as a stock broker in New Haven, Hartford, and Glastonbury. He was a devoted father, friend, and volunteer, working as a community leader, fundraiser, coach, and mentor for many local organizations including Cheshire Kiwanis, the Connecticut Leukemia Society, Special Olympics, Cheshire Youth Baseball, and Unified Sports. In addition to these activities, he spent 74 years as an unparalleled Red Sox fan, 65 years attempting to perfect his golf game, over half a century completing the New York Times crossword puzzle seven days a week, and countless hours having the time of his life entertaining himself and those close to him by playing songs on his piano from a large and ever-growing collection of fake books—and concentrating his analytic and strategic skills sitting across from friends, acquaintances, and family members at bridge and chess tables. He filled his life with the people, activities, and things he loved and valued, contributing to those individuals and giving back to the community.
His family will celebrate his life privately at a remembrance gathering at his home. Memorial contributions may be made to the Cheshire Community Food Pantry, Inc., PO Box 457, Cheshire, CT 06410 or a charity of one's choice.
—Submitted on behalf of the family.