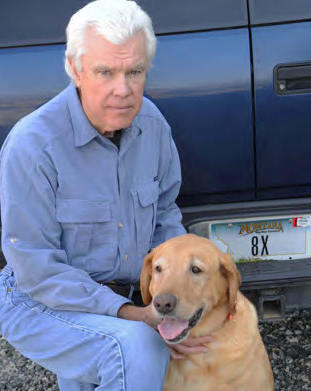 John J. Mingo passed away at home on November 8, 2022. He was born February 1, 1943, to John and Anna (Fertal) Mingo in Norristown, Pennsylvania. He grew up in West Conshohocken, PA. In 1965 he graduated from Yale University with a BA in economics and in 1970 earned a PhD in economics from Brown University. He taught economics at University of Montana from 1969 to 1972.
In 1972 John went to work at the Federal Reserve in Washington, DC. On loan from the Federal Reserve, as deputy assistant secretary of the treasury, he authored the Monetary Control Act of 1980. In the '80s he was a partner at Golembe and Associates and reveled in the merger and acquisitions when Golembe and Associates represented one client and Goldman Sachs another. In the '90s he returned to the Federal Reserve as senior advisor to the board of governors, and then spent most of the remainder of his career with his own company, Mingo & Co., advising major financial institutions and the US government. During the end of his tenure as senior advisor to the board of governors and via Mingo & Co., he became recognized as the leading expert on regulation of risk management.
John was an avid fly fisherman. He fished all over America and the world. He lectured many times, including at the Angler's Club of New York and the Trout Unlimited chapter of Washington, DC. He wrote several articles for fly-fishing magazines and wrote three books on fly-fishing: Fly-Fishing the Montana Spring Creeks: The Rainbows of Paradise—considered to be the spring creek fly-fishing bible; Fly-Fishing the Western Spring Creeks and Tail Waters, and Introduction to Hybrid Nymphing Tactics. He also spent time writing and teaching shooting defensive pistol accurately and at speed. He even taught an Army Ranger battalion of 24 which was coming through Montana and participating in a competitive handgun event. He wrote yet another definitive book, on handguns this time: Defensive Pistol—A Complete Introduction.
In 'retirement' (ha ha), in addition to writing the aforementioned books, he was the founder and managing principal of Baetis Audio, where he was chief designer of special servers (computers). Baetis Audio media servers won annual Recommended Component awards at both Stereophile and the Absolute Sound from 2014 through 2020. The Baetis Reference server won the coveted Golden Ear award from the Absolute Sound and an A+ rating for digital equipment from Stereophile.
When John set out on an endeavor, he gave it his all. He was passionate about everything he did. His hobbies often became avocations, which in turn were often mistaken by others as mainline careers. This was a source of humor, and not a surprise for family and close friends who knew his work ethic to be special, and perhaps even borderline insane. These avocations included his primary love, the fly-fishing world. He once had help from his two preteen sons to collect flies on the menu for Montana trout, to study them in a modified aquarium, to in turn improve imitation fly patterns. His fly-fishing publications resulted from his hard-core, no 'cutting corners,' empirical research.
'But wait there's more': he loved to explore various other aspects of our world. In addition to fly-fishing, media servers, and competition shooting, he explored astronomy, the wine world, skiing, music of all varieties, sports, etc. One year he was an assistant coach for his younger son's youth soccer team and the goalkeeper coach for another child. Of course, he did his due diligence in this capacity as well. One can only hope this child has profited from years of extensive counseling.
He will be remembered as a hero for advancing our understanding of the banking system and its impact on the economy and families around the country and the world. He will be remembered as a hero for advancing our understanding with his other intensely pursued endeavors. He will be remembered as a hero to the family for being a steadfast protector, a no-nonsense problem-solver when he was needed the most. With all the love in the world we will miss him so very much.
He is survived by his wife of 56 years, Suzanne Martin Mingo; his sons, John David and Daniel; grandchildren Abigail, Sabrina, and Alessandra; and dogs, Mandy and Samson. A celebration of life will take place at his home in the Shields Valley, Livingston, Montana, on April 22, 2023.
—Submitted by the family.