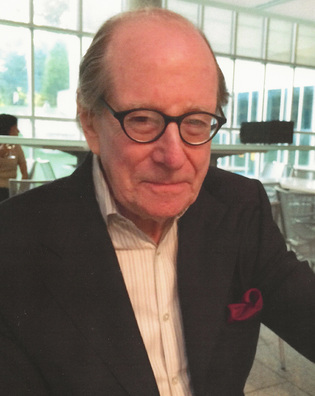 David Doubleday Holbrook died peacefully at home on Sunday, May 14, 2023. Born September 1, 1938, to John and Alice (Doubleday) Holbrook, David attended St. Bernard's (1952), Millbrook School (1956), Yale (1960), and Harvard Business School PMD. David spent his entire 40-year business career at Marsh & McLennan. He retired as chairman and a director of the insurance brokerage division of Marsh & McLennan Companies. Professionally, he was also president of the National Association of Insurance Brokers and a trustee of the Binghamton-based Security Mutual Life Insurance Company.
Worldly, wise, and a true gentleman, David was always the sharpest-dressed man in any room he entered. While he was a highly accomplished businessman, his passion was for the arts. He amassed an impressive and important collection of West African artifacts and sculptures which will be donated to Yale. As chairman of the Theater Development Fund, he steered the move of TKTS from the trailer in Times Square to the iconic stairs that bear his name. In addition to the TDF, David served on the boards of the Joffrey Ballet, the Orchestra of St. Luke's City Center, the Joyce Theater, and the Noguchi Museum. He also lent his considerable talents to the boards of Centurion Health, Outward Bound, and the Millbrook School.
David married the late Holly Gales in 1960 and moved to Katonah, New York, to raise their three children. In 1999 he married Andrea Kline-Greif and took up residence in his beloved home in the West Village. David was predeceased by his siblings John Holbrook and Phyllis Lichtenstein, both of New York, and Peter Holbrook of San Francisco. He was the father of Helene Holbrook Downs, Christopher Cameron Holbrook, and Lee Seaton Holbrook (who pre-deceased him), and stepfather to Tanya Hamilton. He was also grandfather to Kelly Gales, Amanda Barber, Cameron Holbrook, Alice Holbrook Smith, and Parker Holbrook; and great-grandfather to Beckett Barber, Pippa Barber, and Alice Smith.
—Submitted by the family.