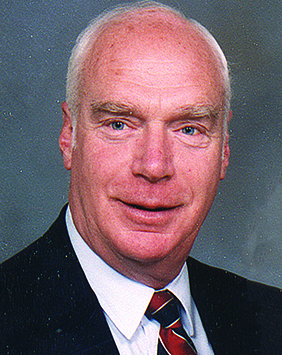 With sadness but also deep gratitude and admiration for a long life well-lived, we report the passing of the Rev. Frederic A. Pease Jr., a 1950 Yale alumnus.
Pease died peacefully at 96 on July 11, 2023, in Brunswick, Maine, in the company of family members.
Born in Pittsfield, Massachusetts, in 1927, Fred graduated from Phillips Exeter Academy ('45), Yale University ('50), Union Theological Seminary ('53), and Andover Newton Theological School ('78). He served in the Navy during WWII and, later, in the Navy Reserve, retiring as a commander in 1978.
He was a faculty member at Phillips Academy in Andover, Massachusetts, from 1958 to 1978—chaplain, religion instructor, housemaster, and hockey and lacrosse coach for nearly 20 years, touching the lives of hundreds of young people. In addition to his time at PA, he was a United Church of Christ (UCC) minister in churches in Jaffrey Center and New Ipswich, New Hampshire; in Haverhill, Massachusetts; and with the Massachusetts Conference of the UCC.
Fred married Lillian Zachrisson in 1953. The family spent idyllic summers on Swans Island, Maine, where Fred was never happier than when sailing his beloved Rhodes 19 or ferrying family excursions aboard the Boston Whaler.
Fred and Lillian retired to Dresden, Maine, in 1990. Fred remained a committed advocate for "the least among us," often representing the Maine Council of Churches in supporting economic and social justice, and in testimony before the state legislature. Lillian died in 2014. He is survived by their four children—Ted, David, Ruth, and Rebecca.
A celebration of Fred's life will be Monday, October 2, at 11 a.m. at First Parish Church in Brunswick, Maine. Contributions in his memory may be made to the Maine Council of Churches, 202 Woodford St., Portland, ME 04103.
—Submitted by the family.