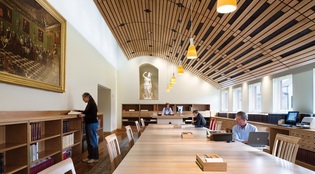 Peter Aaron / ESTO
A barnlike addition at Yale's Lewis Walpole Library houses the library's collection and reading room. View full image
When Margaret Powell became librarian of Yale's Lewis Walpole Library in 2000, one of the first calls she took was from one of the library's neighbors, who informed her, "Your poison ivy is strangling my rhododendron." Says Powell: "That's when I knew I was a long way from Sterling Library."
In fact, she was some 40 miles north, on a 14-acre estate in the Hartford suburb of Farmington, where Yale has since 1980 run one of its most unusual outposts. There, scholar Wilmarth Lewis '18 and his wife, Annie Burr Lewis, made their home and built a collection of books, manuscripts, prints, drawings, and furniture, all centered on the Lewises' near-obsessive interest in the eighteenth-century English literary figure Horace Walpole. When Mr. Lewis died in 1979, both the property and the collection were left to Yale.
One of the two houses on the site was renovated in 2001 to provide lodging for visiting scholars. But the eighteenth-century main house, where the Lewises had lived, had proved inadequate to both house the collections and make them accessible to scholars. So, in 2006, the library closed for a yearlong renovation project, in which most of the collection was moved to a new building. The renovated library was rededicated last September.
Architect Mark Simon '72MArch of Centerbrook Architects says the new building had to be fairly large in order to provide archival storage space for the collection and a new reading room for scholars. Simon's firm designed the new structure to resemble a barn, in keeping with New England rural tradition.
The renovation will make it easier for scholars to take advantage of the Lewises' collection, which sheds light not just on Walpole but on the literary, artistic, and political worlds of eighteenth-century England. "Walpole knew everybody," says Powell. "He carried on long correspondences with people, sometimes up to 40 years. And he was a gossip, so you find out all sorts of things."
Powell says that she is heartened by the university's commitment to a place that has often been out of sight and out of mind over the last 25 years. "For a long time this was a backwater," she says. "To have this attention given to the library is wonderfully validating."