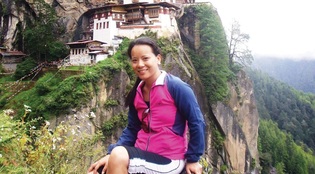 Courtesy Kesang Sherpa
Visiting sites like the Takstang Monastery in Bhupan is part of the job description for Kesang Sherpa '04. View full image
Since graduating from Yale in 2004, Kesang Sherpa has been making tracks. A native of Nepal, Sherpa has returned home to run Sherpa Trekking Service, her family's travel and cultural exchange business. This fall, we spoke to her by telephone when she was in London, between networking sessions at the World Travel Market trade show and a meeting at the Nepalese Embassy.
Y: Where are you living these days?
S: I live in an area of Kathmandu called Boudhanath, near a famous Buddhist stupa, or shrine.
Y: Are you a practicing Buddhist?
S: Yes. I'm not trained in the Buddhist scriptures, but I do practice.
Y: Your resume says: "Fluent in English, Nepali, and Hindi. Competent in Spanish and Mandarin. Basic knowledge of Czech." Not bad. But why only basic knowledge of Czech?
S: I studied film in Prague for half of my junior year, and while I was there I took courses in Czech.
Y: During college, you traveled extensively in Europe and South America. What made you finally want to return to Nepal?
S: I wanted to go back home and be with family. My father set up the business in 1971, after traveling all over the world in the 1960s. He hitchhiked and rode buses and trains all the way from Nepal, through to the Middle East and Europe, and on to the U.S. It was easier to travel back then, I suppose. After his travels, he came home to set up a trekking and travel company. I guess for me it's a similar story of coming home.
Y: My image of Kathmandu is of a place overrun with arrogant mountaineers on their way to the mountains. Is that wrong?
S: It's pretty wrong. True, Kathmandu is an entry point for a lot of tourists from all over the world who come for adventure treks, like to Everest base camp or the Annapurna Circuit. But the city isn't overrun. We also have two main seasons for trekking, spring and fall. For six months out of the year, there aren't many tourists. And yes, we also have a lot of people, especially Buddhists, who come to Nepal to visit monasteries or study meditation -- that sort of thing.
Y: What's fabulous about your job?
S: I get to travel a lot, which I like. I'm usually traveling throughout Nepal, Tibet, Bhutan, India, and all the other destinations we manage. Another good thing is that this isn't a nine-to-five job. Some days it's seven a.m. to midnight, but other days I have more freedom.
Y: And the not so fabulous?
S: Some things in Nepal can be a bit slow as far as bureaucracy, but that's the only thing that's a little frustrating. I'm trying to get more American standards of management and accountability, but that's not easy.
Y: Hasn't there been a lot of political turmoil in Nepal in recent years? Where do things stand today?
S: For the last three or four years things were a bit unstable, but now they're back on track. The political parties are setting up national elections and the insurgency is over. For the past eight months, things have been quite rosy, and the number of arriving tourists is way up.
Y: What kinds of concerns do you have that fall under the umbrella of "responsible tourism" or, even more vague, "sustainable tourism"?
S: One thing we don't do is travel en masse. Even if we have a big group of 45, we break that into four or five smaller parties. If you have 40 people going in, the impact, environmentally and culturally, is much bigger. You end up taking up the entire place. I'm also a believer in philanthropic travel. Within the company, we've set up a branch called Charities and Challenges. So someone takes on a challenge to, say, climb a peak, but he also contributes to a local charity. The direct effects are important. All of our guides and porters are really well taken care of and come from the areas where we visit, so they're directly contributing to their local economy.
Y: For those of us who can't get to Nepal anytime soon, what book would you recommend for learning more about the place?
S: For straight factual information and an overview, read the Lonely Planet [travel guide].
Y: Did the publishers pay you to say that?
S: No, no. You want something different? For fiction, I like Samrat Upadhyay's book of short stories, Arresting God in Kathmandu.
Y: One of the programs you've launched is called "Become a Sherpa." It sounds like a trick to get other people to carry your gear, no?
S: Sherpa doesn't mean porter. That's a misperception. When Nepal opened up in the 1950s and Sir Edmund Hillary climbed Everest, the Sherpas were living in a remote area to the northeast and they were hired to carry equipment. As tourism blossomed, Sherpas like my father set up their own businesses, and the professional term stuck. It's a little like people who are named Blacksmith, although in this case the name of the community of people, Sherpas, came first and the professional term came second. Now this word is everywhere, and has many different connotations. If you go into the Gap, they have a Sherpa jacket that's meant to be warm and fuzzy. I think there's also a jeep and a military aircraft called a Sherpa.