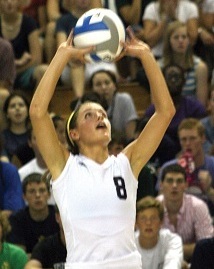 Sam Rubin '95/ Sports Publicity
Volleyball team captain Ally Mendenhall '09. View full image
Apart from the football team's exhilarating but failed attempt to win it all (see The Game), Yale's female athletes dominated the fall 2007 season. In total, women's soccer, field hockey, volleyball, and cross-country notched two all-American nods, six first-team All-Ivy honors, and two second-place conference finishes.
The top single performer was runner Lindsay Donaldson '08, who finished her Yale career with her sixth All-American award. The field hockey captain, Harriet Thayer '08, also was chosen as an All-American. Thayer helped put the exclamation point on the end of the team's six-game winning streak with an assist during the Elis' dramatic 2-1 overtime win over archrival Harvard in mid-October. Field hockey head coach Pam Stuper praised Thayer's work ethic, saying, "Hers will be big shoes to fill!"
In an impressive demonstration of resilience, the women's soccer team rebounded from a 1-4 start to go 4-1 in its last five games, including four straight wins to close out the season and finish just one win behind first-place Penn. Their comeback nearly earned the women an NCAA tournament showing. "Even with the letdown of falling short, I think we had a very strong season," captain Mary Kuder '08 said, "and one that I foresee the team building on next year." (Most of the team will be back.)
On the volleyball courts, no one could touch Princeton, which finished undefeated in Ivy League play this fall. Yale and Penn, both 10-4 in the Ivy League, tied for second.
The women's crew had high expectations after winning the 2007 NCAA championship last May, and they did well, taking second place among collegiate teams at the Head of the Charles regatta and fourth overall, the same place they captured during last year's championship run. "This fall was a good time to get back into workouts, bring some of the younger rowers into the mix, and get a general refresher of the Yale stroke," first varsity boat member Jamie Redman '08 said.
Of the men's teams, only crew and coed sailing saw a significant measure of success. The heavyweight crew finished eighth at the Head of the Charles and second at the Princeton Chase, heading toward the spring championship season with ever-improving results. The sailing team collected a plethora of top-five finishes across the northeast this fall as it geared up for spring competition.