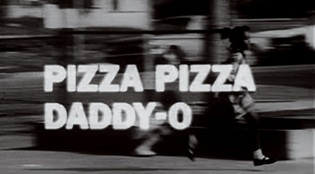 Bess Lomax Hawes
The opening frame of a film in the Folkstreams archives about girls' playground games. View full image
If you're a fan of American roots culture, but you're on a tight deadline, by all means avoid paying a visit to www.folkstreams.net. Folkstreams, created in 2000 by documentary filmmaker Tom Davenport '61, is a repository of more than 80 videos about North American and world folklore and folklife. The films range in length from a few minutes to more than an hour, and anyone with an Internet connection can view them all for free. It's easy to lose track of time watching documentaries about preaching in the Virginia Blue Ridge, logging in backwoods Maine, eating salamanders at a Pennsylvania frat house, and singing the blues in the Mississippi Delta.
Davenport, who farms 1,000 acres in northern Virginia and these days is making a series of films about small-farming practices, started Folkstreams "out of frustration that so much good documentary material was so hard to find, if it was available at all." He also wanted a place to showcase his own work, beginning with documentaries he made in the 1970s on the Shakers and the medicine show performer "Peg Leg Sam" Jackson.
Davenport's parents exposed him early to folk music, and he found his musical home at Yale in the Saturday night campus hootenannies. Art student John Cohen '55BFA, '57MFA, and math teacher Tom Paley '52MA, both musicians, had started the hootenannies—freewheeling concerts of blues, old-time ballads, and protest songs accompanied by acoustic guitars and banjos—in 1953.
Cohen, who was also a filmmaker, inspired Davenport's interest in creating movies about cultural traditions. In 1970, Davenport, equipped with a bulky 16-millimeter movie camera, visited Shaker communities in New Hampshire and Maine. Films on country musicians, mountain life, rural churches, and John Cohen himself followed. The films were never moneymakers. Davenport's farm—his father bought the land at $50 per acre in the 1950s—kept him going, as well as a more-commercial series in the 1970s, live-action adaptations of the Grimms' fairy tales.
Davenport began developing Folkstreams in 2000. As a host for the site, he eventually chose iBiblio, a huge collection of public-domain material maintained and made available online by the University of North Carolina-Chapel Hill. The site now streams between 500 and 1,000 video viewings every day. It's not just for traditionalists: a new title, Let the World Listen Right, focuses on hip-hop and the blues in Mississippi. The most popular film currently is one of Davenport's own: Born for Hard Luck, on singer and harmonica player Sam Jackson. Music from that film was used in the soundtrack of the movie Am élie.
Originally Davenport had hoped his website would help filmmakers make money through sales of copies to viewers. But Folkstreams never became lucrative. Hardly anyone, "save Ken Burns, is making money creating documentaries," says Bill Ferris, a UNC folklore professor and former director of the National Endowment for the Humanities. "It's more an act of sheer love, and even when you can come up with the financing to finish a film, it tends to have a very limited life cycle and reach only the smallest audience." Ferris is a filmmaker himself - one of his early efforts featured B. B. King, in Ferris's own classroom when he taught at Yale in the '70s - and he has eight titles on the site. "Folkstreams opens up the possibility of truly global interest in your work," he says. "It's been a godsend for filmmakers."
Davenport points to a larger mission. He notes that Our Lives In Our Hands, a 1986 documentary about Native American basketmakers in Maine, was picked up recently by Micmac Indian teenagers interested in learning the craft. "These films are resources," Davenport argues. "We have seed banks for rare plants as a hedge against ecological disaster. Folkstreams.net is a kind of seed bank to prevent cultural disaster."