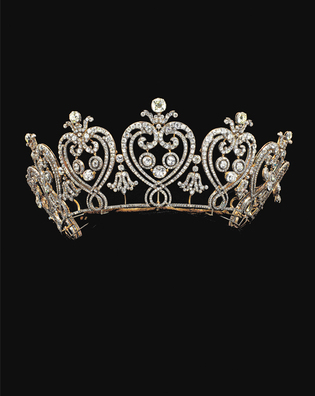 Victoria and Albert Museum, London. Photo: Yale University Art Gallery.
Consuelo, Duchess of Manchester, was a Cuban American sugar plantation heiress; she commissioned this astonishing jewel from the House of Cartier in 1903. On display at the Yale Center for British Art through June 2—as part of Edwardian Opulence, an exhibit of Downton Abbey–era finery—the Manchester Tiara is conceived as a graduated frieze of flaming hearts. Stones are suspended within the hearts to "exploit with simple gravity the wholly seductive effect of spontaneous motions of the head," as exhibit curator Angus Trumble puts it, "further enhancing the continual flash and fire on which diamonds depend for their startling magnificence."
Diamond tiaras made for ranking British peeresses, notes Trumble, did not often incorporate motifs as sectarian as the Sacred Heart of Catholic devotion. That veneration reached its peak when, in 1899, Pope Leo XIII decreed that the entire human race should be consecrated to the Sacred Heart of Jesus. The duchess's tiara therefore doubled as both a spectacular head ornament and a public declaration of her Catholicism.