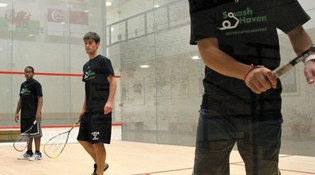 Sean Elligers
Diovanni Prophet (far left), a 15-year-old at New Haven's Metropolitan Business Academy, and Joemar Aviles (far right), a 14-year-old freshman at New Haven's Wilbur Cross High School, work on their technique with Squash Haven's squash director, John DeWitt (center). Both boys have been in the Squash Haven program since fifth grade. View full image
Growing up in Cincinnati, Leah Hamlin '14 had never heard of squash. At Yale, she says, "the name 'squash' intimidated me." But when she attended Yale's freshman bazaar to choose an extracurricular activity, the Squash Haven table caught her eye. The group, which works with local public school students, isn't just for squash; it has a strong academic component, and she liked that.
Ever since, Hamlin has been volunteering at Squash Haven, first as a tutor, then also as a mentor. "The reason I stuck with it is that the kids are at such a formative age," she says. "You really get to see their growth and development."
Squash Haven provides academic enrichment and squash instruction to students in New Haven public schools that meet federal low-income thresholds. "The kids are with us every day," says executive director Julie Greenwood; they do homework, practice squash, and compete in tournaments. The sport lends itself to a program like this because "you don't need a team. We get them to work as individuals, and they have the ability to set and achieve individual goals." And because squash is played at many colleges, she adds, it "helps our kids make strong connections to our long-term goal of higher education."
A total of 90 students, from fifth grade through high school, are currently enrolled in the program. Based in the Brady Squash Center at Payne Whitney Gymnasium, Squash Haven is run by a full-time staff of six. Members of Yale's squash teams volunteer as coaches, tutors, and mentors.
It's not a short-term arrangement, says Greenwood: "We're grabbing kids when they're in the fifth grade and going all the way with them." Squash Haven will mark a significant milestone this year when members of its first class graduate from high school. College applications are pending, and "it's exciting but also kind of frightening," Greenwood says, sounding more like a nervous parent than a nonprofit administrator.
On a recent weekday afternoon, Squash Haven students gathered in the gym's trophy room for announcements and to review the tournament calendar. Somber portraits of long-ago Yale athletes looked down at them. The squash players, some sprawled on an oriental rug and some slouching in easy chairs, looked entirely at home.
Osuman Imoro, who is in tenth grade, has been part of Squash Haven for five years. "I've never felt the same feeling doing anything else that I feel when I play squash," he says.
Hamlin, who plans to attend law school, says her Squash Haven experience has influenced her sense of the kind of lawyer she wants to be: she's thinking about becoming a public defender or a children's advocate. "That's because of my work with Squash Haven," she says. "I would only hope I gave back to them half of what they gave to me."