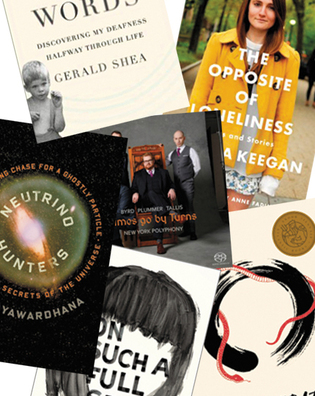 Times go by Turns
New York Polyphony
BIS Records, $21 CD/SACD hybrid disk, $9.99 online
This four-man vocal chamber group includes baritone Christopher Dylan Herbert '02 and tenor Steven Caldicott Wilson '07MusM. The set, recorded in 2013 at Länna Church in Sweden, demonstrates the ensemble's breadth and nimbleness, with sixteenth-century masses by Byrd and Tallis and three new works that were commissioned by the group. One of these, the lushly harmonized "Colloquy with God," is one of the final compositions by Sir Richard Rodney Bennett, who died in 2012.
Song Without Words: Discovering My Deafness Halfway through Life
Gerald Shea '64
Da Capo, $25.99
When he was six, Gerald Shea contracted scarlet fever, an ailment that left him partially deaf. He could still hear low-frequency sounds, "but most consonants and some vowels (ee, ih, ah) gradually faded to softness." He was left with "the transitional words, wrong words, and often nonwords" that register in the minds of the hearing-impaired. In this poignant memoir, Shea, who became a successful international lawyer, relates how he overcame the sounds of partial silence.
Neutrino Hunters: The Thrilling Chase for a Ghostly Particle to Unlock the Secrets of the Universe
Ray Jayawardhana '94
Scientific American/Farrar, Straus, and Giroux, $27
Neutrinos are mysterious elementary subatomic particles that carry no electrical charge and almost no mass, and every second, notes astrophysicist Jayawardhana, "about a hundred trillion neutrinos produced in the nuclear furnace at the sun's core pass through your body… yet they do no harm and leave no trace." The book introduces us to these strange things, which are critically important to theories about the nature of the cosmos.
On Such a Full Sea
Chang-rae Lee '87
Riverhead/Penguin, $27.95
In a dystopian future America, there are the charter villages, populated by the wealthy elites, and the surrounding labor settlements, for workers brought in from an environmentally ruined China. In B-Mor (once Baltimore) lives a 16-year-old diver named Fan, whose job is to manage a series of food-producing fish tanks. All is well until her lover disappears, and Fan, in an act of defiance against the directorate, poisons the waters she farmed and heads out to the anarchic open counties in a quest to find him.
The Zen Predator of the Upper East Side
Mark Oppenheimer '96, '03PhD
Amazon Kindle Single, $2.99
Right after Japanese Zen Buddhist monk Eido Shimano arrived in New York at the end of 1964, he started walking throughout Manhattan. He quickly attracted followers and established two large and flourishing Zen monasteries. But, reports Oppenheimer in this e-book, "Shimano wasn't the man his followers hoped he was." In a riveting true story, Oppenheimer exposes Shimano's decades of sexual improprieties, abuse of power, and "spiritual malpractice."
The Opposite of Loneliness: Essays and Stories
Marina Keegan '12
Scribner, $23
"We're so young. We're so young. We're 22 years old. We have so much time," wrote Keegan in an essay published in 2012 by the Yale Daily News. Six days after she received her diploma, with a job at the New Yorker and seemingly a brilliant writing career ahead of her, Keegan was killed in a car crash. She left behind a trove of articles and short stories that are collected into a bittersweet, what-might-have-been book filled with youthful optimism, energy, honesty, and beyond-her-years wisdom.