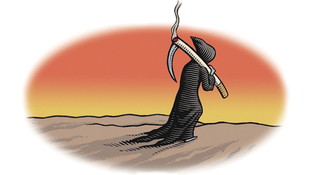 Gregory Nemec
Fifty years ago, when US Surgeon General Luther Terry released his groundbreaking report on the deadly consequences of tobacco use, he knew it was a bombshell. But the full impact has only now been calculated.
Eight million lives have been saved in the United States as a result of the surgeon general's warning and the tobacco control measures that flowed from it, according to a Yale School of Public Health study published in the Journal of the American Medical Association. Lead author Theodore R. Holford '73PhD, professor of biostatistics and a member of the Yale Cancer Center, says the finding grew out of work being done on lung cancer. Using data collected by the National Center for Health Statistics from 1965 to 2009, the team created scenarios that allowed them to consider, says Holford, "what would have happened had there not been tobacco control."
The report was released on January 11, 1964. That pivotal moment in American public health history led to tobacco control measures including advertising restrictions, higher sales taxes, the surgeon general's warning on the sides of cigarette packs, and limits on smoking in public.
The researchers summarized lifetime smoking histories for groups of people by birth year, back to 1890. They used these histories, along with studies of the mortality risk associated with smoking and national mortality rates, "to tease out death rates for the US by smoking status," Holford notes. All this enabled the team to consider an alternative history.
The report came about because of growing public concern about the health effects of smoking, explains Holford. The press started pushing President John F. Kennedy to do something, but Kennedy was reluctant. "So he punted; he handed it off to the surgeon general. Terry took the ball and ran with it." As a result, Holford says, tobacco control is responsible for 30 percent of the increase in US life expectancy* since 1964—more than any other public health or medical measure.
_____________
* This sentence has been corrected. Because of an editing error, it originally stated that tobacco control has increased life expectancy by 30 percent since 1964.