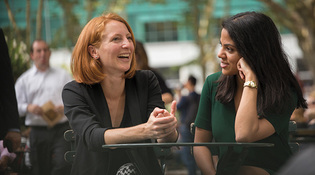 Mark Ostow
When Zoë Lloyd '17MBA/MEM (left) and Nilofer Ahmed '16MBA met—at an event the School of Management calls "Startup Speed Dating"—they began talking about frozen food. Two years later, Zoni Foods is starting its rollout. View full image
You arrive home on a Thursday night, way later than you had planned. Tired and hungry, you can't face another pizza box, and would like to cook something quick and reasonably healthy. But the contents of the vegetable bin look as if they had been riding around in your briefcase, and the freezer is a wasteland.
Zoë Lloyd '17MBA/MEM and Nilofer Ahmed '16MBA know the story.
"Zoë and I saw many of our peers in the same boat," Ahmed says. "Unpredictable schedules, fridges full of fresh ingredients that had spoiled, lack of time and energy to plan and cook meals, even with the best intentions."
When the two met at the School of Management's "Startup Speed Dating" event in November of 2015, they began discussing an idea. Could they develop, manufacture, and market a product that would taste great, reduce food waste, and help take the stress out of preparing nutritious meals—all for a reasonable price?
"Our research showed there was both demand and market opportunity for our product," Lloyd says. This September, less than two years later, their product line—Zoni Foods—is expected to be available at four stores in greater New Haven. And they have plans to expand to retailers throughout the Northeast. The plant-based frozen meal kits, selling for around $6, contain no preservatives and can be cooked in one pan on the stove in ten minutes. The company promises "a full serving of plant-based proteins" in every meal, and always "whole fresh foods." One variety features carrot and zucchini spirals with a cashew-coconut curry sauce and spiced chickpeas.
Lloyd, who works full time on the business, has longstanding academic and personal interests in food systems and environmental issues. Before attending SOM and FES, she worked for a startup food distributor that focused on supporting local family farms, a job that got her thinking more strategically about how to make our food system more sustainable. Ahmed, a licensed CPA who now works at a Boston consulting firm and part time with Zoni Foods, says that, while good food is central in her family, she didn't home in on nutrition as a career interest until coming to SOM. A month spending time with small food-business owners nationwide, under the auspices of MBAs Across America, gave her insight into and practical experience with food access and food justice issues.
With their complementary skills and backgrounds, the pair won several entrepreneurial competitions, providing enough money—around $60,000—to cover their first year of business. By the summer of 2016, they were experimenting with recipes, feeding the results to friends, and being coached by Yale advisers and community mentors. They began working with an executive chef, a food safety expert, and other consultants who helped them figure out everything from package design to scaling up the recipes for commercial production. "There was a pretty steep learning curve from cooking home recipes to developing a commercial product," Lloyd remembers. "The day we manufactured our first prototype and held it in our hands," she adds, was "incredibly rewarding." They're still raising money to cover current costs. By year three, they hope to be breaking even.
Now that their product is in stores, Lloyd and Ahmed are anticipating a radical new element in their business: clients. Says Ahmed, "We are looking forward to hearing who our customers are, and what suggestions they have for us."