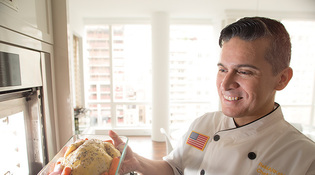 Mark Ostow
As a personal chef, Mark Tafoya '93 delivers a wide range of cuisines, from comfort food to a dish he calls "lavender, honey, and balsamic roasted chicken." View full image
Mark Tafoya '93 discovered his calling in a magazine. It was 2003, and he was sitting by a pool, flipping through the pages, when he saw an ad for the United States Personal Chef Association.
He wasn't sure exactly what a personal chef was, but food was already on his mind: he'd had a great time that summer as "party creator" for a friend who had a house on New York's Fire Island, and the meals he'd made had drawn raves from guests and suggestions that he open a restaurant. And the ad caught his eye at the perfect moment. He'd had professional success as an actor, appearing in two Broadway shows in quick succession right out of Yale, but he was frustrated by the instability of show business and looking for something new. He'd often said that if he ever chucked it all and started a new career, he'd try his hand at cooking.
Fast-forward to 2017 and Tafoya is Chef Mark, owner of ReMARKable Palate, a business based in New York City. On a recent Wednesday afternoon, he was cooking with fervor—"running around, mixing and banging pots and stuff"—making low-carb mini-muffins he calls "spice cake bites." Unlike a private chef, who cooks for one client or organization, a personal chef is constantly adapting to the needs of different customers. Tafoya typically has four to eight regulars whom he cooks for every week or two, plus a constant parade of dinner-party clients. One person might request a week's worth of meals for a family of four, the next a dinner party for six vegetarians.
Since he often cooks in people's homes, he's also become adept at navigating the quirks of their kitchens. "Oftentimes it has to do with no cutting board," he says. "One time I used the back side of a chess board. Or, like, no rolling pin? Wine bottle. And dental floss—unwaxed, unflavored dental floss—is a great thing if you run out of kitchen twine."
His clients ask for, and he delivers, a wide range of cuisines, including Southeast Asian, classic Mediterranean, and "comfort food: chicken parmigiana, beef stew, fried rice." Young professionals, he says, "tend to like elegant, light fare that they can reheat quickly without a lot of finishing: fish Florentine; sesame-crusted tuna with wasabi mayo; lavender, honey, and balsamic roasted chicken." He likes to innovate. When clients ask him for surf and turf, one option he offers is "what I call a New York surf and turf"—Montauk scallops and Hudson Valley duck breast.
To keep himself, and his menus, inspired, Tafoya uses the summer to travel (and eat) around the world. His culinary tourism began when he was a Yale undergrad, double-majoring in theater studies and French literature. A study-abroad trip to France exposed him to new worlds of flavor and ingredients. "That awakened my passion for cooking," he says. Ever since, he's been trying to replicate new dishes he finds abroad. Two that he's adopted are larb gai, a Thai preparation of spiced minced chicken, and a dissolute-sounding Italian recipe called spaghetti all'ubriaco—"drunken spaghetti"—which takes on the deep red color of the Sangiovese wine it's cooked in.
Lately, Tafoya has also been mastering specialized diets, including the one he follows personally to manage Crohn's disease. It taught him to cook creatively and well while keeping within strict limits. And honoring people's health needs adds a deeper level of meaning to the work. "I'm actually doing a service in cooking this way," Tafoya says. "I like that I'm making a difference for people."