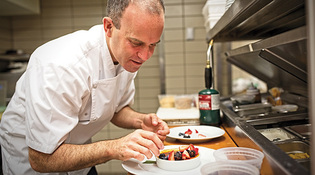 Scott Suchman
The 2016 Pastry Chef of the Year for metropolitan Washington, Alex Levin '00 first learned dessert skills from his grandmother. View full image
Suffice it to say that his is not the usual career trajectory for a pastry chef: BA in applied mathematics and economics. First career in finance and corporate event planning. But as Alex Levin '00 sees it, a mathematician's brain is the perfect accessory for a pastry chef's life. He uses spreadsheets and math to track his creations and improve his methods. The mechanics of building a cake, he says, require as much precision as the construction of a building. "With mathematics, you have to bring order to chaos," he says. "It's the same with recipes."
Levin got his start in finance right after Yale at the World Research Group in New York, working his way from entry level to executive director in a couple of years. He enjoyed running a company, but after the crash of '08 he started thinking about the what-nexts and applied to business schools. Then the time came to choose—and somehow, the prospect of an MBA failed to inspire.
Instead, he decided he'd be happier pursuing his first love: making pastries, a skill he'd learned from his grandmother. "The smile that you bring to a room with a beautiful dessert at the end of a meal is very special. That's what people remember," he says. So he applied for a two-year training program at the famed Culinary Institute of America in Hyde Park, New York, to study baking and pastry arts.
Levin graduated in 2012, and his pastry career took off as quickly as his corporate career. He sped through the ranks of New York kitchens at Jean-Georges, Apple Pie Bakery Café, and Café Boulud. In 2013, he joined Osteria Morini, a restaurant in Washington, DC, where he made a name for himself by excelling at modern takes on classic desserts. Many were "deconstructed" desserts, whose elements (say, crust, filling, and topping) are prepared individually and then grouped on the plate, to be tasted separately or together.
Within a year, Levin was promoted to executive pastry chef. In 2016, he was named Pastry Chef of the Year by the Restaurant Association of Metropolitan Washington. Earlier this year, he joined chef Michael Schlow's restaurant group as executive pastry chef, overseeing pastry operations at 11 restaurants in DC, Los Angeles, and New England. He says the organizational skills and critical thinking he learned at Yale still stand him in good stead. And he hasn't forgotten the beauty of numbers. But, he adds, "as pastry chefs, we try to be artists presenting beauty on plates."