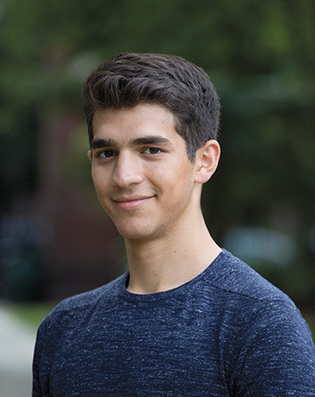 Mark Ostow
Hacibey Catalbasoglu '19, who is running unopposed for New Haven's Board of Alders, grew up working at his family's Howe Street pizzeria. View full image
On a Tuesday night in September, a meeting room in Bass Library has become a campaign war room. Sixteen students—about half the campaign team—crowd around the table, while candidate Haci Catalbasoglu '19 stands at the front. A Google Sheet with phrases like "message of the day," "message of the week," and "key terms" is projected on the wall.
It's an impressive campaign for an uncontested race.
Catalbasoglu is running as an unaffiliated candidate for New Haven's Board of Alders in Ward 1, which largely consists of Yale students and typically is represented by one. Though he has no opponent, his team is campaigning widely in order to create a dialogue in the ward. His platform is about strengthening the relationship between Yale and New Haven. It's a sentiment many past Ward 1 alders have voiced, but Catalbasoglu is from New Haven. Born and raised. And so, when he says that his goal is to help bridge the divide between the city and the university, the claim has special resonance.
Catalbasoglu's parents immigrated from Turkey in 1992. Today, his dad owns and runs Pizza at the Brick Oven, a restaurant on the corner of Elm and Howe. "When I was a kid, there'd always be Yale students walking in and asking what I wanted to do with my future," Catalbasoglu says. "And I was like, 'I want to be like you some day.'"
But his encounters with Yale students weren't always so positive. Once, when he was still in middle school, a student asked him where to buy groceries. Catalbasoglu recommended the Stop and Shop four blocks away. The student looked at him and said, "Oh, we don't go over there. It's not safe."
"That hurt," Catalbasoglu says. "That's where I call home, the areas of New Haven that aren't Yale. And it was so degrading to hear that." He says that exchange was his "wake-up call," when he realized that town-gown relations still needed work.
Becoming an alder means taking on a part-time job that requires a lot of work for $2,000 per year. But it won't be his only side gig. Every now and then, you'll still find him working the late-night shift at Brick Oven.